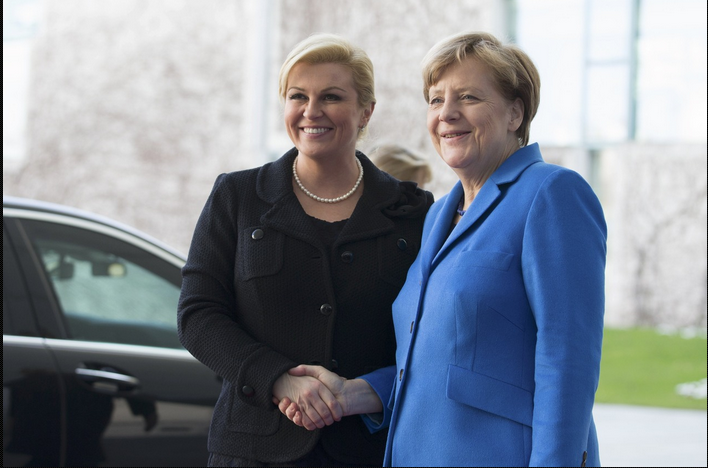 Zagreb, March 17, 2015/ Independent Balkan News Agency
By Marija Avramovic
Starting Tuesday president Kolinda Grabar-Kitarovic is on an official visit to Germany, where she met with President Joachim Gauck and Chancellor Angela Merkel.
According to the statement from the office of the Chancellor, topics of conversation between Merkel and Grabar-Kitarovic were bilateral and European issues as well as current developments in South East Europe.
"Good partnership relations, political and economic, in the field of tourism, science and culture, have been acknowledged during this visit as well", said the president Grabar Kitarovic adding that this visit should send a symbolic message of strong partnership.
"Zagreb recognises the role of Germany in the Euro-Atlantic structure. Croatia, as a country which went through a double transition, will continue with the reforms that are a prerequisite for overcoming the crisis", she noted.
Before the trip Grabar Kitarovic gave an interview with Deutsche Welle where she said that she wanted to rebuild the confidence of Germany for Croatia, which had been disrupted with the case of 'lex Perkovic' and changing the law on the arrest warrant on the eve of Croatian accession to the EU.
Germany was one of the fiercest critics of Zagreb when only two days before the entry into the EU on July 1, 2013, it amended the arrest warrant and prevented the extradition of former Yugoslav and Croatian intelligence agent Josip Perkovic for the murder of Croatian emigrant Stjepan Djurekovic in Munich in 1983.
"As someone who has worked on the pre-accession negotiations and persuaded the EU that Croatia will be a constructive partner, I was disappointed when after joining the Union a divergence in the case of the European arrest warrant and the case Perkovic occurred", explained Grabar Kitarovic.
After talks with his counterpart, Gauck confirmed that Croatia is a role model and a link to all the countries of the Western Balkans on the road to the EU, noting that Croatia has to face its past, as Germany once did.
Economic relations with Germany are among the most important, it is Croatia's second foreign trade partner, comes third in foreign investment, while from Germany come nearly two million tourists a year.
After talks with Gauck and Merkel, Croatian president held a lecture on Croatia and the European Community at the European Academy in Berlin.