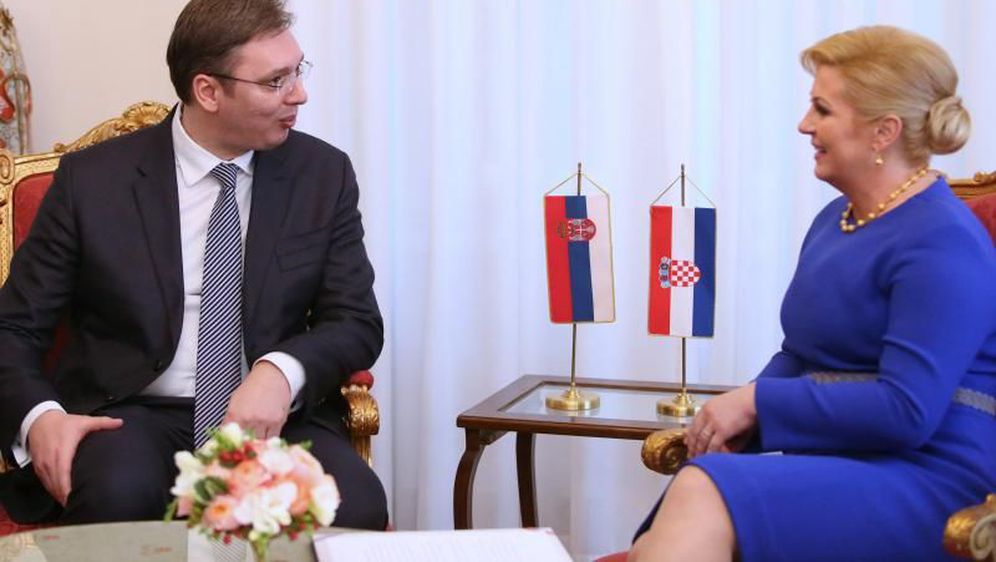 Croatian president Kolinda Grabar Kitarovic has announced that she has decided to invite her Serbian counterpart, Aleksandar Vucic, to visit Zagreb. With this move, as Grabar Kitarovic said, she wants to "open the new chapter in relations between two countries".
Vucic has reacted by saying that he would talk about the invitation tomorrow (Wednesday).
The invitation came after another row between Belgrade and Zagreb took place. Namely, Serbian exhibition on Jasenovac concentration camp, organised in the United Nations headquarters in New York this week, provoked Croatian officials to deliver demarche to Belgrade. Serbia reacted reciprocally.
"I believe that it is time for a presidential level visit. I have invited president Aleksandar Vucic, in good faith, to officially visit the Republic of Croatia in mid-February", Grabar Kitarovic stated.
Vucic will talk about the visit at the press conference on Wednesday, a source from the presidency told Tanjug news agency.
Vucic was supposed to visit Croatia in November 2017. However, both presidents agreed to postpone it due to the tensions in bilateral ties.
Grabar Kitarovic also stressed that she strives for the resolving of the open bilateral questions "through sincere dialogue and in positive atmosphere". According to her, "the century of the mutual disputes and conflicts" between the two states began exactly a hundred years ago.
Until 1918, most of Croats lived in the Austro-Hungarian Empire. After its collapse, Serbs, Croats and Slovenes came to live together, for the first time, in one state.
Grabar Kitarovic said that Croatia has a number of open issues with its ex-Yugoslav neighbours. "However, our relations with the Republic of Serbia are especially burdened with these issues".
Despite the "century of disputes and conflicts", Croats and Serbs have "one thousand years of common history and they can find the path that would lead us to the better future", Grabar Kitarovic concluded…/IBNA
Photo: Lana Slivar Dominic / PIXSELL / HINA/POOL