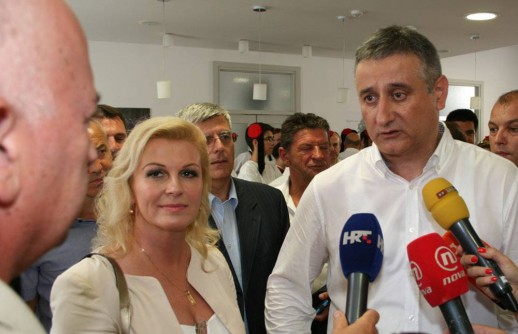 Zagreb, December 4, 2014 /  Independent Balkan News Agency
By Marija Avramovic
Presidential candidate for Croatian democratic union (HDZ) Kolinda Grabar Kitarovic accused the Government for withdrawing only 25% of the available money from EU funds, saying it is "an act of treason and corruption against which Croatia needs to fight".
"In 2014 from the Cohesion Fund we had at our disposal EUR 1.1 billion, for agriculture EUR 400 million and for fishery EUR 36 million. Out of this was not taken a single euro, as the government has been unable to develop programs and call for tenders. It is just like treason, it is corruption against which we will fight", Grabar Kitarovic said last night in Bjelovar, at the presentation of her election program.
As the main culprit for the difficult economic and social situation in the country she marked "this incompetent, speechless and clueless government" and as the government's accomplice she dubbed current president and her rival Ivo Josipovic.
According to Kintarovic, Josipovic kept silent during his mandate and abetted such government and now is  time for him to leave.
For her first move as Croatian president she announced a conversation with Prime Minister Zoran Milanovic, when she would initiate the convening of the session of the Government about the state of the country and the government's plans for the future.
"If there are no such plans or there is no political will from them, then it would be better to have new elections and new government, instead of the agony in which we are today", Grabar Kitarovic assesed.
She also appraised as devastating the latest figures of the corruption perception index, which had situated Croatia among the five most corrupt EU member states.
"These are devastating figures and that is why my program has zero tolerance for corruption, but always and very objectively and not only in the pre-election period and not for particular interests",  she added.