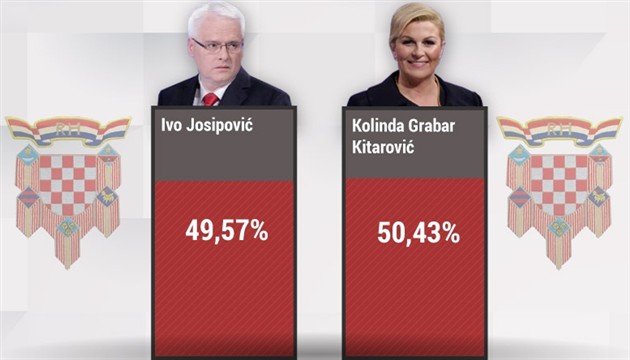 Zagreb, January 12, 2015/ Independent Balkan News Agency
By Marija Avramavic
Opposition challenger in front of Croatian democratic union (HDZ) Kolinda Grabar-Kitarovic has become the first female president of Croatia in a runoff after first round of elections provided no outright winner.
By 11.15pm, 99.7% of polling stations were processed and after an initial advantage of Ivo Josipovic, Kitarovic took the lead with 50.43%, while her rival has 49.57% of the votes.
Polls in major cities were the first in vote counting which, in the first round, were in favor of Josipovic, but little after 9pm his lead started to melt away and Grabar Kitarovic took the lead.
The votes from diaspora, which traditionally incline towards the right-wing candidate, will be the last to be counted and the last polling station outside Croatia were closed early Monday morning.
Turnout in the second round of sixth presidential elections since independence, 58.94%, was higher than in the first one when little over than 47% of the voters cast their votes.
Grabar Kitarovic won in 14 state counties, Josipovic only in seven so the HDZ candidate gained 1,098,923 votes, while Josipovic had 1,079,081 votes, which made the difference of slightly less than 19 thousand votes, while there were also 60,590 or 2.71% invalid ballots.
Josipovic went down in history as the first President of the Republic with only one mandate and for the past five years has lost 300,000 votes, which is nearly a quarter of votes he had won in 2010.
Former Foreign minister and assistant to the NATO secretary general, Grabar Kitarovic thanked her party and announced that now she would no longer be its member, but that she would still share the same values as HDZ.
"We all want a better Croatia. I invite all those who voted for Josipovic to be a part of our team, because we've had enough separations. You are all mine. Let's unite love and faith towards our homeland, let's make Croatia prosper", Kolinda invited last night at the headquarters of HDZ.
After disclosing of the preliminary results newly elected president publicly made three promises – that from the first second she will work for a joint Croatia, that Croatia will go forward with confidence, togetherness, without divisions and that she would fully implement her program for a better Croatia.
"Congratulations on the victory to the newly elected president Kolinda Grabar Kitarovic. We had a grueling campaign, debates and mutual confrontations – the difference is small, but it is the essence of democracy and once again I congratulate her", Josipovic said after hearing the first results.