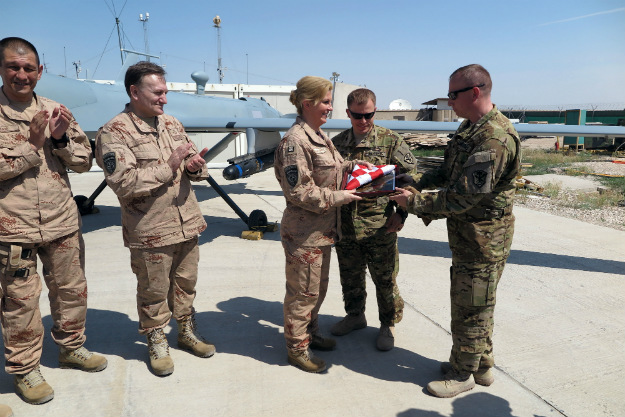 Zagreb, May 12, 2015/ Independent Balkan News Agency
By Marija Avramovic
Croatian State president Kolinda Grabar-Kitarovic was at Camp Sahin in northern Afghanistan on Tuesday and said that she was satisfied with what she saw during her stay with the Croatian soldiers who are in Afghanistan as part of the mission "Decisive support", adding that the country has a future as Afghan forces will certainly beat the Taliban.
"My impressions are excellent. This camp most closely resembles advance bases, it is rare in Afghanistan and in it Croatian soldiers reside", noted the Croatian president.
Speaking to Croatian reporters who accompanied her during her visit, she once more emphasized that all the Afghan officials stressed the professionalism of Croatian soldiers and their extraordinary relationship with the population and their colleagues in the Afghan army.
Journalists were also interested in what the future of Croatian engagement in Afghanistan will be, namely the 107 Croatian soldiers.
"We will act as NATO will, 28 countries came together, 28 of them will leave. Of course, we will also respect the decision of our Parliament about the number of soldiers", she replied.
At the Sahin military base the president was greeted by lined up soldiers from the Second branch of protection forces whose task is to protect the counselors and trainers of Afghan security forces.
In Marmal she lit the candle at the monument to fallen members of the coalition forces in Afghanistan and met with the commander of the camp, General Andreas Hanneman and with the governor of the province of Balkh.
US officers gave her the Croatian flag and a certificate confirming that the flag was in drone which was flying over and filming an area of Afghanistan.
With the governor of the province of Balkh Grabar-Kitarovic spoke about civil projects in which Croatia has been helping the Afghan people, especially in education, health and women's empowerment.
After the three-day visit, Grabar-Kitarovic is returning tomorrow with her delegation to Croatia.