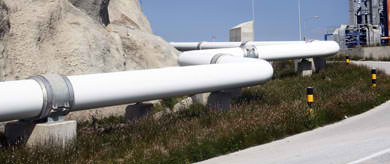 By Chryssa Liaggou
Following the failure of the Public Gas Corporation (DEPA) tender and hoping to save face in that for gas transmission network operator DESFA, the government is accelerating the privatizations program, giving priority to projects such as the Piraeus Port Authority (OLP), in a bid to reduce the shortfall expected in revenues and fend off pressure from its creditors to introduce more measures.
The coming week will be crucial for developments on the sell-off front as it should see definitive decisions regarding the outcome of the DESFA tender. The government expects to get a positive result to edge closer to the target for revenues of 1.6 billion euros from privatizations this year and reverse the negative picture created from the lack of bidders for DEPA.
From the statement issued by state privatization fund TAIPED on Wednesday after the sole binding offer from Azeri state energy firm Socar, it emerges that awarding the 66 percent stake in DESFA to the only bidder will depend on whether the Azeris raise their offer. TAIPED stopped short of revealing the price offered, but it is said to range between 390 and 430 million euros. A meeting of the two shareholders, TAIPED and Hellenic Petroleum, will decide on the offer "that is being examined on its details and concession," said TAIPED.