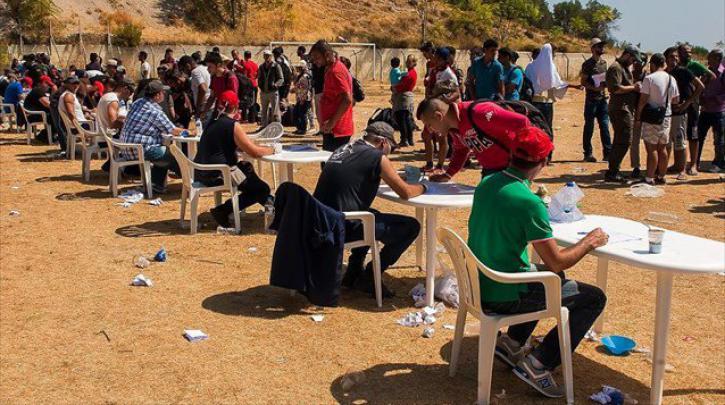 Athens, February 1, 2016/Independent Balkan News Agency
By Spiros Sideris
The Greek Government proceeds with the acceleration of the works for the timely completion of the refugee reception centers and migrant (hotspots) on five islands (Samos, Lesbos, Chios, Kos and Leros) and the two relocation centers inland, having decided the active participation of the Ministry of Defence.
Until the next meeting of European leaders Greece will have implemented the commitments it has undertaken, reports the Press Office of the Prime Minister and underlines that the EU and the European institutions will then have to show a corresponding sense of responsibility.
The refugee issue was the main topic of the discussion at the meeting held Saturday at the Maximos Mansion under Prime Minister Alexis Tsipras.
The meeting was attended by Ministers of National Defence P. Kammenos, and State for the coordination of government work, Al. Flabouraris, Marine and Island Policy D. Dritsas, alternate Ministers of Citizen Protection D. Toskas, National Defence D. Vitsas Immigration Policy G. Mouzalas, European Affairs Nikos Xydakis and the Secretary General of Coordination D. Papagiannakos.
At the meeting it was decided that:
The Defence Ministry undertakes:
– To designate directly provisional coordinators in five reception centers on the islands
– To oversee and assist with every means available to the completion of construction projects, so that hotspots are ready for operation within the next two weeks.
– the staffing and operation of mobile kitchens in five islands in order to serve the refugees.
– to grant the camps of Sindos and Schistos, of immediate capacity of 500 persons, with accommodation possibilities for further 4,000 people each, for the creation of Relocation Camps. At the same time, it undertakes their timely delivery as well as their operation.
At the same time, the Ministry of Citizen Protection assumes the rapid complete staffing of five reception centers, in order for the direct identification of refugees to be possible to take place in the centers.