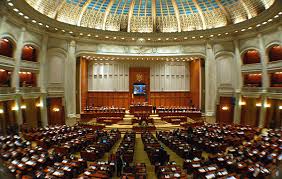 By Daniela Baragan
USL representatives filed yesterday within the Senate a draft law on lowering the turnout threshold for referenda from 50 to 30 pc. According to the draft, a referendum is validated if no less than 25 per cent of voters cast their ballots.
The two conditions are cumulative.
The government will issue a positive note on the draft law filed by several USL MPs on lowering the turnout threshold for referenda from 50 per cent to 30 per cent. The announcement was made yesterday by Premier Victor Ponta who pointed out at the start of the government's weekly meeting that the draft filed by USL MPs is made "precisely on the basis of the decisions taken last year by the Constitutional Court (CC), namely an identical threshold for all types of referenda, not just for impeachment or constitutional amendment referenda." According to the Premier, the threshold is lowered solely for those that may have boycotted the referendum, Ponta underscoring that a boycott is not an expression of electoral will. "You are for, against, or you are not blocking the adoption of important decisions," Ponta stated, being quoted by Mediafax.