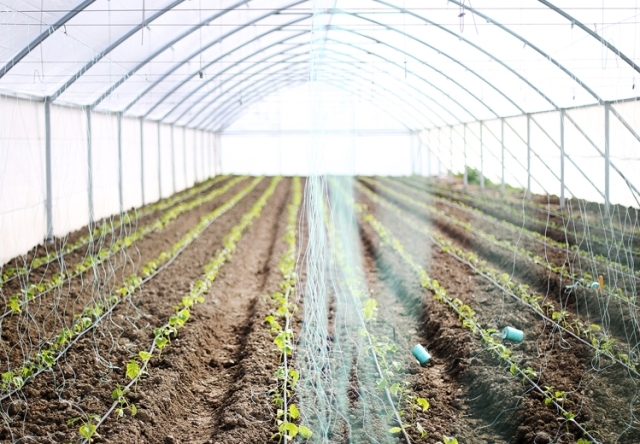 Tirana, 3 March 2016/Independent Balkan News Agency
The Albanian government aims at increasing agricultural production in the country and for this, it has drafted ambitious projects to enable an intensive development of this field and to reduce as much as possible the seasonal character of its products.
Albanian farmers will be financially supported by the government in order not to be just ordinary cultivators of agricultural produces, but also consolidated exporters and certified by the European Union.
Through programs that support the development of agri-business and agri-processing, the government subsidizes amongst others 50% of the value of the construction of facilities which serve agriculture, such as collection and processing warehouses, refrigerated storage facilities, etc, in order for Albanian produces to have the quality and conditions required by the international market.
The newest program which supports Albanian farmers is the greenhouse program which is being offered by the Albanian PM Edi Rama himself.
In his tour, the head of the government visited on Wednesday several agricultural businesses in Fushe Kruja.
"We have doubled the greenhouse areas in these two years. If we continue like this, we will see further increases of export and satisfy the needs of the domestic market for a number of products, thus continuing to reduce trade deficit", Mr. Rama said.
The prime minister presented several offers that the government has announced for those who invest in agricultural farms.
"I would encourage you to benefit from the new program of agricultural support, namely for greenhouses where we are offering 100 thousand USD for a period of 5 years for every 10 hectares of greenhouses", Mr. Rama said.
Rama offered for agricultural entrepreneurs another opportunity. "For every farm of 100 hectares, we offer 1 million USD for a period of 5 years".
Meanwhile, with the fund of guarantee that the Albanian government has created along with EBRD, 300 million euros have been made available for the next three years for all of those who want to invest by receiving loans with a low interest rate.
This is a lending program which offers low interests and is guaranteed by the Albanian state in order to assist all of those who want to boost their investments or who want to make fresh investments in agriculture.
"All of this will be done by the state, acting as an intermediary between farmers, enterprises, banks and by pushing forward this success story, which has started to yield its first results, but which still has lots of potential", added the Albanian PM Edi Rama. /ibna/