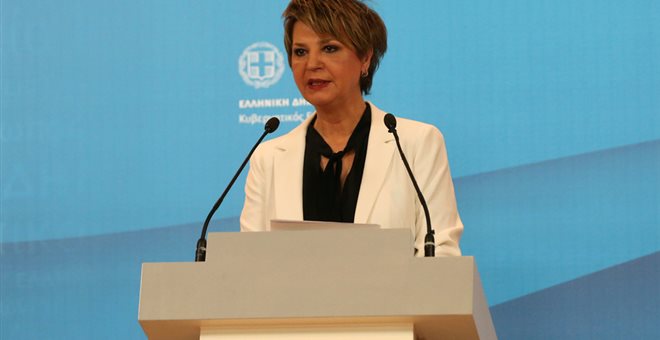 Athens, June 1, 2016/Independent Balkan News Agency
By Zacharias Petrou
Greek government spokeswoman Olga Gerovassili announced on Tuesday the withdrawal of a provision approved by the Syriza-ANEL ruling coalition in parliament recent that removed a ban on ministers, MPs and public officials from being involved in offshore companies.
The withdrawal of the provision followed an uproar from the press and opposition parties which heavily criticized the government of trying to serve vested interests.
Gerovassili said a new provision will be presented to Parliament on Wednesday addressing the concerns flagged. Earlier, Prime Minister Alexis Tsipras held an emergency meeting with his closest aides to address the issue which threw the government into crisis.
In a front-page article on Tuesday, the official Syriza party newspaper "Avgi" condemned the government's decision – approved in Parliament last weekend – that allowed ministers, deputies and ministry general secretaries to legally participate in off-shore companies.
The front page headline read: "Offside with offshores", directly criticizing the government for the highly controversial decision which surprised even Syriza MPs who privately voiced their dissatisfaction.
"Society draws a red line at the incompatibility of political engagement and "offshore" economic activity in tax havens, even if they are "tax cooperative". Legally allowing ministers, MPs and other state officials to develop economic activities in states which cooperate tax-wise, including several "tax havens" during a period that the burden of exiting the crisis is shouldered by those who cannot escape is socially provocative and must be revoked immediately" the article in Avgi read.
According to the left-wing newspaper, "the government has no substantive reason to insist on a provision that offends the common perception of justice".
Newspaper "Proto Thema" revealed that the provision in article 178 allowed MPs to own off-shore companies. The provision was buried in the 7.500-age multi-bill brought to parliament to implement prior actions and agreed taxation reform with Greece's creditors.
New Democracy submitted a parliamentary question on the issue signed by all its MPs and leader Kyriacos Mitsotakis demanded the government explained its motives.