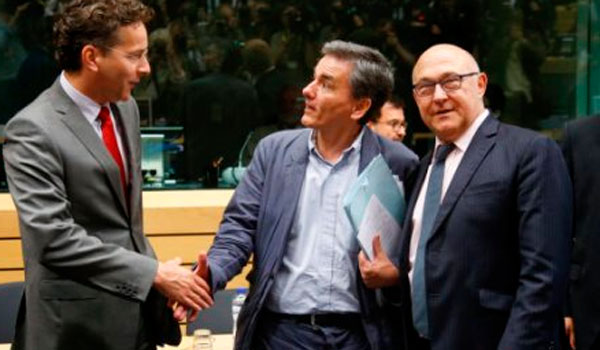 Athens, May 24, 2016/ Independent Balkan News Agency
By Zacharias Petrou
Following the approval of the multi-bill containing prior action in parliament, the Greek government turns its attention to the 24 May Eurogroup meeting.
In recent days government officials have watered down their optimism about the Eurogroup meeting on May as the significant differences that remain between Eurozone creditors – especially Germany – and the International Monetary Fund (IMF) over the kind of debt relief that should be offered to Greece, make the arrival at a deal on May 24 a difficult prospect.
The following two unfavorable scenarios concern the Greek government: The Eurogroup meeting does not arrive at any binding decision on May 24 and the Greek debt relief saga continues as Germany and the IMF try to bridge their differences of opinion; decisions for short-term debt relief are taken but medium-term relief – which is more substantial and politically useful to A. Tsipras – is left to be decided after the second review of the bailout program which is scheduled to begin in October.
The IMF appears to be pushing for extended payment periods for loan repayments, extended grace periods and lower interest rates on Greece's current loans, otherwise, it has warned that the country's debt could exceed 300 percent of GDP by 2060.
Following the ratification of the multi-bill, Athens expects to receive 9-11 billion euros in bailout funds, most of which will be used to repay IMF loans and ECB bonds maturing in July while a part of these funds will also be used to pay off State debts to private individuals and businesses.
It was initially thought that approximately 5.7 billion euros in fresh funding would be disbursed to Athens, however, it is expected to be rewarded for fully legislating the tough set of measures agreed with creditors. Greek government sources believe that the funds to be channeled towards reducing state arrears could provide a great boost to the economy in combination with an expected "road map" for debt relief.
The green-light for the disbursement is expected by Athens to be given by the Eurogroup on 24 May.
Eurozone officials leak to the press that "the IMF will be on board within the first review".