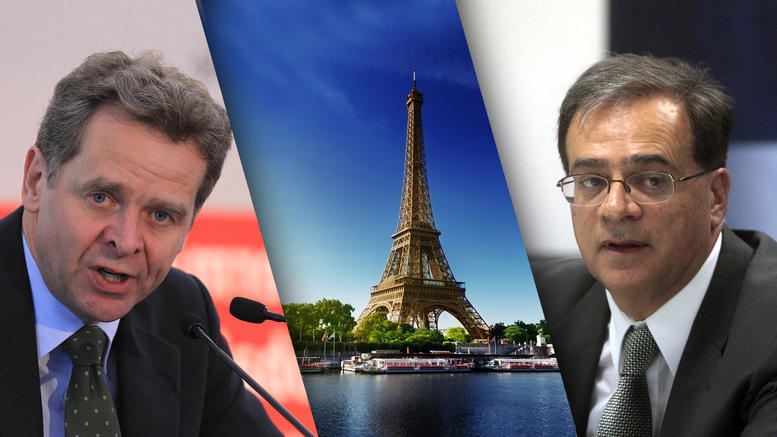 By Lefteris Yallouros – Athens
Talks between the Greek government and troika officials begin in Paris on Tuesday afternoon. Finance minister Gikas Hardouvelis will lead a team of ministers that will engage in the three-day talks which are viewed as a preparation for a visit by the troika to Athens later this month to assess progress made in the implementation of the country's adjustment program.
Following a meeting with Prime Minister Antonis Samaras and Deputy Prime Minister Evangelos Venizelos, Hardouvelis told reporters that expectations had risen too high for this meeting. He also pointed out that the troika "can only talk about the memorandum, not politics".
Hardouvelis also said that the Greek government will not be setting any "red lines", meaning non-negotiable terms will not be set. This is seen as a move to to scale down hopes for tax relief as reports in Greece are suggesting Greek hopes of the troika agreeing to tax cuts are likely to be disappointed.
Sources suggest the troika – particularly the IMF – is adamant that any reductions in tax introduced by the government would have to be offset by savings elsewhere.
According to revised figures published on Monday, the Greek economy shrank by 0.3 pct in the second quarter from a year earlier. The original flash estimate stood at 0.2 pct. Although the revised numbers are by no means a major blow, they are indicative of the difficulty the economy is facing in attempting to return to growth soon.
In any case, Greece's GDP could grow this year by around 1.0 pct, as expected by the government, compared with the troika's projection of 0.6 pct. The troika is also projecting a EUR 2 billion fiscal gap in 2015 with the Greek side maintaining it will amount to only EUR 900 million.
The different estimates (and opinions for that matter) of the two sides are evident of the challenging nature of the Paris negotiations. While Gikas Hardouvelis attempted to lower expectations, it is clear that promising tax cuts at the 79th Thessaloniki International Fair on Saturday is key to the Prime Minister's immediate strategy. How negotiations with the troika develop in Paris on property tax, Greek proposals for dealing with nonperforming loans, the budget and structural reforms will determine what Samaras could promise in Thessaloniki.
Voices within the government for the PM to act unilaterally and go ahead with tax breaks are being heard as deputy Development minister Yerasimos Yakoumatos told reporters on Monday that the government could always act with the troika's consent. Perhaps this is what Hardouvelis was hinting at too by saying the troika does not have the competence to engage in a political discussion with the government.