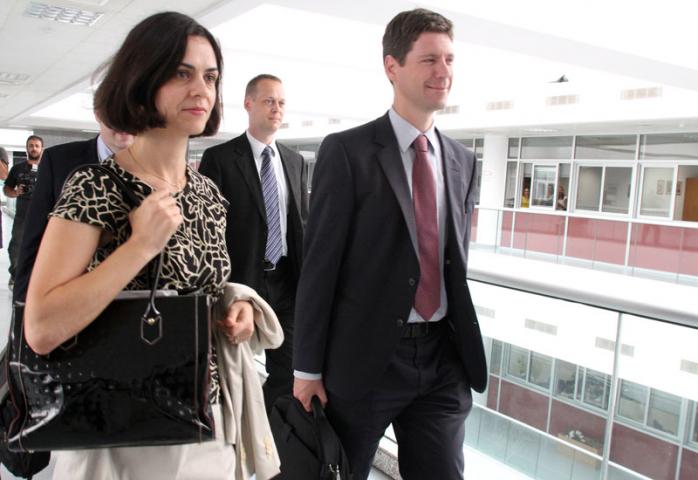 Athens, March 28, 2016/ Independent Balkan News Agency
By Zacharias Petrou
The high-ranking officials of Greece's creditor institutions are expected to return to Athens at the end of week, as talks with the government will enter their final phase next week, with the aim to wrap up the first bailout program review. The two sides will seek to put the finishing touches to the taxation and social security reforms.
The scenario both sides are working on foresees pension cuts amounting to 1% of GDP, an income tax increase worth 1% of GDP as well a set of additional revenue-yielding tax measures.
As things stand, much convergence has been achieved on the income tax front despite the International Monetary Fund tabling tough demands which have been heavily criticized in public by Greek officials.
On social security reform, the two sides have already agreed on a national pension amounting to 384 euros (for 20 years of employment) and scalable cuts to those with 15-19 years of employment. The Labor ministry has tabled proposals on the social security reform issues still pending. These will be discussed further next week.
On the fiscal gap, measures are being examined for it to be bridged with a view to achieve a primary budget surplus of 3.5 percent of GDP in 2018. Alternative measures are being sought in order for 400 million euros to be found to compensate for those that have not been effective, such as the levy on games of chance, tax revenue from Video Lottery Terminals, military spending cuts and a consumption tax on wine.
Alternative measures to bridge the fiscal gap that are reportedly being examined include: a levy on banking transactions (to which creditors have voiced strong opposition); tax hikes on fuel; taxation of secondhand car purchases; changes to road tax; increasing tax on mobile phone use and pay-TV; and a possible revamp of property tax (ENFIA).
Moreover, according to Economy ministry sources, there is little agreement on the management of non-performing loans (NPLs) and the government would like to see the issue pushed back to the second review of the bailout program.
It is also suggested by Greek government officials that the participation of the IMF in the country's bailout program should not be considered certain. According to government sources, if disagreements between the Fund and European creditors persist the IMF could eventually be a technical advisor and not a creditor institution in the program, especially since funding needs have decreased since the recapitalization of the banking system.
Technical teams continue to exchange facts and data in order to quantify the proposals made by the Greek government in preparation of the final phase of negotiations. The aim is for an agreement to be reached by the Eurogroup meeting on April 22.