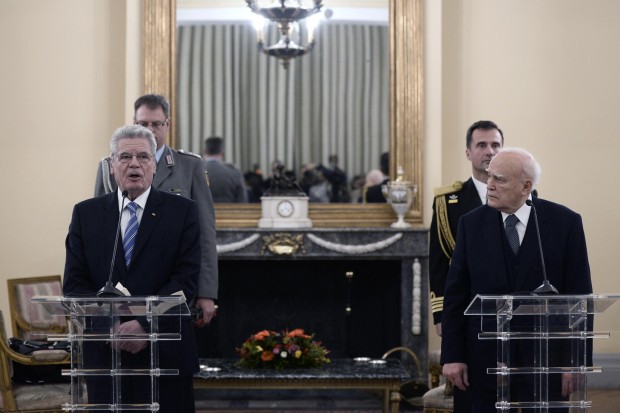 By Lefteris Yallouros – Athens
The Greek government is seeking ways to reach an agreement with troika inspectors by Sunday.
Foreign minister Evangelos Venizelos said Thursday an agreement by the end of the week was realistic.
Prime Minister Antonis Samaras and deputy premier Venizelos met for two hours Thursday in the presence of Finance minister Yannis Stournaras who met with troika inspectors earlier.
At the end of the meeting, Venizelos told reporters: "A realistic framework is in place for an agreement by Sunday. It is easier to agree on the larger issues than the smaller ones, which of course aren't small at all. Our performance is such on the greater issues that make things easier".
The minister added that the government is determined to distribute a large part of the primary surplus achieved last year to the people, in a way which "serves developmental and social goals".
The troika has reportedly strongly opposed the distribution of the primary surplus, urging the government not to waste money saved by tough austerity on pre-election measures.
The government, on the other hand, has vowed to support the most vulnerable. Antonis Samaras himself has promised to distribute the bulk of a projected primary surplus to low-income pensioners and members of the police and armed forces.
Another key sticking point in talks with troika officials is the enforcement of certain structural reforms, which are aimed at lifting barriers to competition and are set out in a report by the Organization for Economic Cooperation and Development (OECD).
So far, the Greek side has refused to cave into some the demands such as granting supermarkets the right to sell non-prescription medicines or extending the shelf life of milk.
One positive, however, is that the two sides have agreed on the fiscal aspect of the evaluation.
Urged by EU officials to conclude a long-running review of the economic review, the Greek government may have to finally consent to reforms in order to persuade the troika to sign off on a deal.
The government is keen for all the prior actions to be included into one bill to avoid having several votes in Parliament that could be a strain on the governing coalition. Yannis Stournaras revealed earlier this week that for 2013 there were 896 prior actions, of which 79% had been accomplished.
Asked about the approval of the next loan tranche, the Greek minister was optimistic. "By May, we will have the money," he asserted, adding that the disbursed tranche will fully cover all of the country's financial needs.