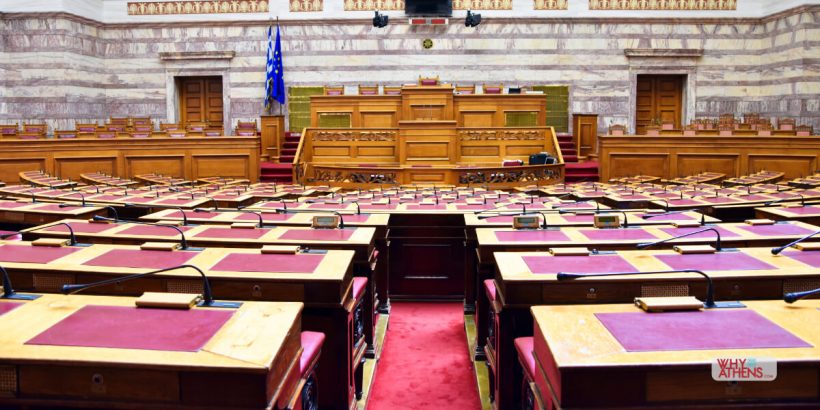 The government is expected to table in parliament a draft-bill amending the electoral law in Greece.
Last Friday, the Interior Ministry put the draft bill up for public consultation until Monday. The draft legislation will be tabled in parliament for discussion in the House, with a vote expected by 22 January.
Prime Minister Kyriacos Mitsotakis briefed most political party leaders on the content of the new bill in a round of meetings with them on Friday morning. However, following the talks, there very little hope of consensus. Mitsotakis will meet with Communist Party leader Dimitris Koutsoumbas today.
The most significant part of the government's legislation is the abolition of the system of "simple proportional representation" introduced by the previous government led by SYRIZA.
Under the new system, any party that wins the election with 25% of the vote, will win 20 additional, "bonus" seats in the House. For every 0.5 points above 25%, the winning party will gain one additional seat in parliament. In the event that a party wins over 40% of the vote, it will get 50 bonus seats automatically.
According to estimates, under the new electoral law, winning 37.5% of the vote in a general election would allow any party to form a standalone government.
In order for the new electoral law to apply in the next election, it must be ratified by an increased majority of at least 200 MPs.
In the now likely event that the new electoral law is ratified with a majority below 200 in parliament, it will come into force in the general elections after next.
Development & Investment minister Adonis Georgiadis stated on ANT1 TV on Saturday morning that the Mitsotakis government will never allow an election to go ahead under the SYRIZA-sponsored "simple proportionality" electoral system.
According to the ruling ND party, the current electoral law doesn't allow the formation of stable governments and would lead to political turmoil. Therefore, analysts believe that if New Democracy wins the next election it could immediately call a snap election, if there is no risk of opposition parties forming a minority government.
Prime Minister Mitsotakis has also stated that a "double election" to cancel out simple proportionality is an option.
Finally, as soon as the electoral law is amended, the Prime Minister is expected to announce the candidate he will put forth for the Presidency of the Hellenic Republic, with a vote in parliament expected early February./ibna