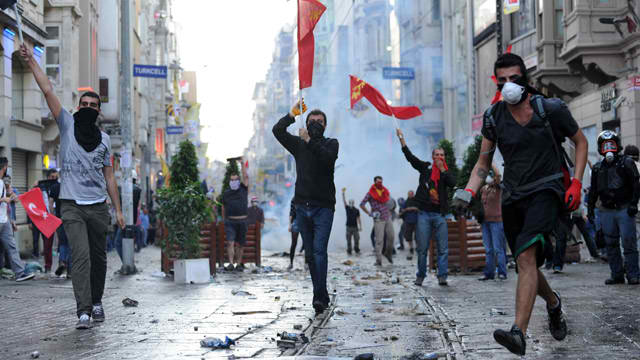 By Manolis Kostidis – Istanbul
The situation in Turkey seems to be totally out of control as the country's government threatened to deploy the army. Already, many Turks fear a return to the days of the 1980 military coup or the emergence of a state of "red alert" where dozens of restrictions would be imposed.
"We may use the Army"
The vice president of the Turkish government Bulent Arinc, who defended the tough stance of the Turkish police against the protesters, said "officers are not street vendors but members of the security forces. Police will use all the means available to them by law".
In an interview with Turkish network A Haber, Arinc said "if this isn't enough we may use the gendarmerie and if that isn't enough we could also deploy – with the permission of the prefects – the armed forces.
It is the first time an Erdogan government member talks of deploying the army to quell protests. Erdogan has been in an 11-year dispute with the Turkish armed forces.
Interior Minister, Muammer Gumer, confirmed the government's plans. He said "we haven't asked for the military's assistance as yet but I could use police forces and the gendarmerie immediately for any intervention. The gendarmerie has already launched some missions".
After 21 days of intense protests and clashes the Turkish government seems to have acknowledged reaction against it will not cease despite the crackdown on protestors and it is now holding an even tougher stance against them.
497 arrests in a single day
The 497 arrests made in the last 24 hours by Turkish police in response to protests held in Gezi park, Istanbul is a sign of the government's reaction. Ufuk Ozkap, a member of the Istanbul Bar Association, announced "from Saturday night to the early hours of Monday morning 441 arrests were made in Istanbul and another 56 in Ankara!"
The Medical Association said a doctor and three nurses were amongst those arrested.
Turkish daily Cumhuriyet reports 1.000 people were arrested throughout Turkey in the last two days and nobody knows where they are being held. A total of 100 parents have contacted bar associations to help them find missing people. "The people are resisting violence and oppression" the newspaper comments.
Strikes ruled illegal as Taksim Square is closed to protestors
Meanwhile, Turkey's Interior Ministry ruled a strike called by the Confederation of Civil Servants (KESK) and the Confederation of Progressive Trade Unions (DISK) Monday illegal.
The strike was called in protest of the police crackdown on anti-government demonstrations.
The Istanbul Prefect announced demonstrations will not be allowed in Taksim Square in future in order "to maintain normalcy and quiet prevalent" these days.
Erdogan terms Europe undemocratic!
Addressing a meeting of Turks of the diaspora, Prime Minister Erdogan accused the European Parliament once again of "supporting people who interfere with my freedom". He also said Europe "silences what happens in Britain and France. You are undemocratic. I don't recognize such a Parliament".
The Turkish Prime Minister, discovering a conspiracy from abroad, also mentioned CNN was broadcasting false images and news.
Bagis talks of conspiracy
Turkish EU Minister, Egemen Bagis, claimed "protests are an attempt to exercise pressure causing regime change in Turkey. The preparation for it began six months ago".
Twitter users to be arrested!
Interior Minister, Muammer Guler, stressed security forces will conduct "sweeping operations" aimed at twitter and facebook users "just like we did in Izmir". 15 people were arrested in Izmir on charges of urging people to protest through twitter.
"We will continue with our plans concerning social media networks. We saw that they were used to report false news. We will take action in other cities too. The security authorities of many cities are already taking necessary action" Guler stated.
In this environment Erdogan will stage three more major rallies this week after those in Ankara and Istanbul. Prevalent slogans call for "respect to national awareness". Erdogan will visit Mersin, Erzurum and Samsun in a show of power that will send a message to protestors continuing to fight his own and the Justice and Development party's tough stance.