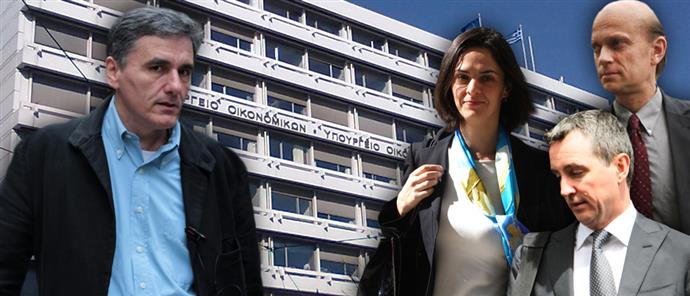 Very little progress was made in the meetings held over the weekend between Greek government ministers and the "quartet" of the country's international creditors.
Finance Minister Euclid Tsakalotos, Alternate Finance Minister Giorgos Houliarakis and Labor Minister Efi Achtsioglou – among other cabinet members – discussed fiscal and labor issues with the top foreign envoys representing creditors, with discussions ending yet again without agreement.
Unresolved differences were referred to the staff level for further deliberation. Technical talks will continue this week, at least until Wednesday. Both sides want to reach an agreement as soon as possible given that Athens must repay 7 billion euros in July and elections in The Netherlands (March), France (April and May) and Germany (September) will complicate the negotiations.
On Sunday top level talks continued with Euclid Tsakalotos and Efi Achtsioglou meeting with creditors. At the end of discussions focusing on labor relations reform, Greek government officials came away with the conclusion that "the International Monetary Fund appear to be ignoring European best practices" in this policy area.
Athens is thought to have argued in favor of necessary compliance with European legislation for mass layoffs, collective bargaining, labor union laws and wages. The Greek side's insistence on reviving collective bargaining between social partners, as well as its opposition to loosening the laws on mass layoffs, were the main obstacles in talks. In fact, differences were so deep from the beginning of Sunday' talks, resulting in the meeting with Labor Minister Achtsioglou ending after about 50 minutes.
A government source who took part in the negotiations on Saturday today told reporters that the IMF is insisting that measures worth at least 2% of GDP (2.6 billion euros) must be adopted. According to the same source, the slashing of the income tax-free threshold is on the table and in coming days the two sides will examine the issue further. Furthermore, pension reform is also being discussed. Top government sources characteristically said that the "IMF projections are excessive" on this issue.
Moreover, the so called "positive counter-measures" that Greece wants adopted will be discussed in coming days. They will most likely take effect after 2019.
The same source revealed that – despite media stories to the contrary – the IMF has not demanded pension cuts take effect as of 2018 and this issue has not been discussed at any level.
Despite slow progress, according to reports in the Greek press, a scenario is gaining traction over the last few hours that a compromise may be close. This could involve an agreement to lower the primary surplus targets, providing that Athens agrees to implement an agreed set of structural reforms and measures (to take effect in 2018) without delay. However, creditors have ruled out any notion of providing tax exemptions to specific social groups as the Greek side has proposed.
The Tsipras administration will now focus on re-drafting a set of countermeasures that initially included reducing VAT in some sectors of the economy and cutting social security contributions for small and medium-sized businesses. Creditors have requested that the measures offsetting additional austerity should be growth-oriented.
Finally, there was also no agreement reached on the level of the tax-free threshold for annual income, which creditors want slashed./IBNA