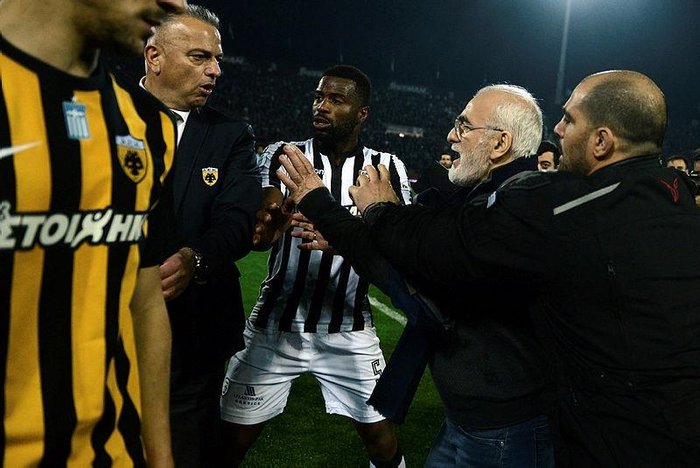 The Greek government ordered the indefinite suspension of Super League action, following violent incidents during the PAOK Salonica v. AEK Athens derby match
on Sunday
night which led to its abandonment.
Deputy Minister for Sport, Giorgos Vasiliadis, announced the decision after meeting for several hours with Prime Minister Alexis Tsipras

on Monday

afternoon. The minister did not rule out the possibility of withdrawing Greek clubs from European competition.

Football violence created yet another political headache for the Greek coalition government and managed to dominate news headlines, despite the fact that serious political developments are unfolding at the same time, such as a deterioration of relations with neighboring Turkey and a bribery scandal involving senior politicians being debated in parliament.

"The government has been fighting for three years to clean up football; a lot of ground has been gained but there is still much more to do. On no account will we allow this entire effort to be jeopardized or the phenomena of the past to be resurrected; we will not permit any turning back," Vasiliadis stressed.
Local media reported that the Prime Minister made clear

on Monday

that everyone involved will be held to account, no matter what the political cost.

The PAOK vs AEK Super League derby was abandoned

on Sunday

night and a pitch invasion by PAOK's owner Ivan Savvidis, with a gun in his pocket. The businessman – who has invested heavily in Greece in recent years – was furious at the math official for ruling out a last-minute PAOK goal. AEK complained of terrorism and accused Savvidis of threatening players and match officials.

The latest incident of violence at PAOK's Toumba Stadium in the northern city of Thessaloniki prompted opposition political parties to raise questions over the government's relations with Savvidis, a former Russian MP who holds stakes in the Thessaloniki Port Authority, media and other businesses.

"What we are witnessing in Greek football is further proof of the decline and disrepute that the SYRIZA-ANEL regime has led the country to," main opposition New Democracy party spokeswoman, Maria Spyraki, said.

New Democracy vice president, Adonis Georgiadis, said it was probable that Savvidis felt his behavior would be tolerated by his friends in the government. PASOK MP, Andreas Loverdos, meanwhile, said the government has failed to ensure the law is applied and prevent violence at sporting venues…/IBNA