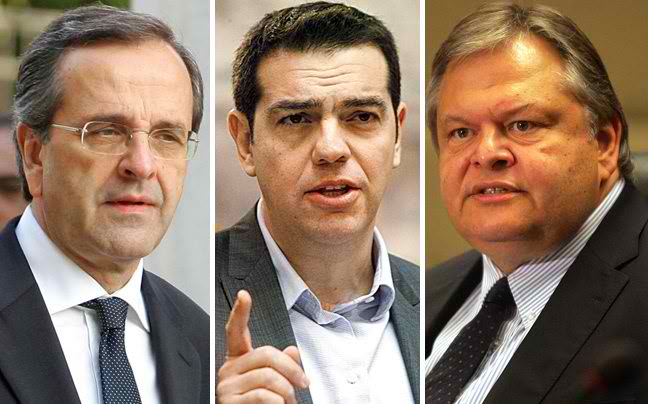 By Lefteris Yallouros – Athens
Following a three-day debate in Parliament, Greece's coalition government survived a censure motion brought by main-opposition SYRIZA.
The government emerged from the vote of no confidence unscathed as left-wing SYRIZA and the opposition parties supporting the motion were far short of the 151 votes in the 300-seat House for it to stand. 153 MPs voted against the notion as conservative deputy N. Kaklamanis was abroad and PASOk MP Th. Tzakri voted in favor of the motion and was immediately expelled from the party.
SYRIZA submitted the censure motion last Thursday, after a police raid on the occupied headquarters of former state broadcaster ERT last Thursday, claiming that Samaras's coalition lacked a popular mandate for its austerity policies.
The Prime Minister stated in Parliament that SYRIZA is playing a dangerous game at a critical time for the country as the negotiation with troika officials is ongoing. "Your politics are finished and now the revolution is also finished for you" the PM said adding that gegeral elections will take place no sooner than 2016.
Main opposition party leader Alexis Tsipras told Parliament earlier that MPs should vote for the motion filed by SYRIZA in order to side with society, before urging the Prime Minister to call an early general election.
Tsipras accused Samaras of shying away from turning up in Parliament and of implementing destructive policies for the economy that favor the few.
The motion against the government was the first since it won the elections in June 2012 and it means no other motion can be filed against it for a period of six months according to the statutes. SYRIZA leader Alexis Tsipras was criticized by parts of the press for choosing to file a motion that gifted the coalition the opportunity to rally their MPs, after some had opposed the government's plans for a unified property tax recently.
The reasons for the motion were mainly symbolic as SYRIZA organized a rally outside the Parliament building in Athens, Sunday in an attempt to show government policies lack popular support and legitimacy.
Troika talks continue
The government returns its attention to tough negotiations with troika envoys in Athens. Following a meeting Sunday between Finance Minister Y. Stournaras and troika officials, it was decided that talks would resume Tuesday before the troika leave to attend a Eurogroup meeting Thursday.
Several key issues are reportedly still open as the troika want to see more evidence that agreed "prior actions" are being met. The view they take will largely determine whether fresh austerity measures will be requested of Greece.
Besides the thorny issue of the size of Greece's fiscal gap for next year which wasn't discussed Sunday, the troika wants to see progress on the overhaul of the civil service, the restructuring of the Hellenic Defense Systems, the unified property tax and outstanding measures necessary for the release of the next tranche of Greece's rescue loan (EUR 1billion).