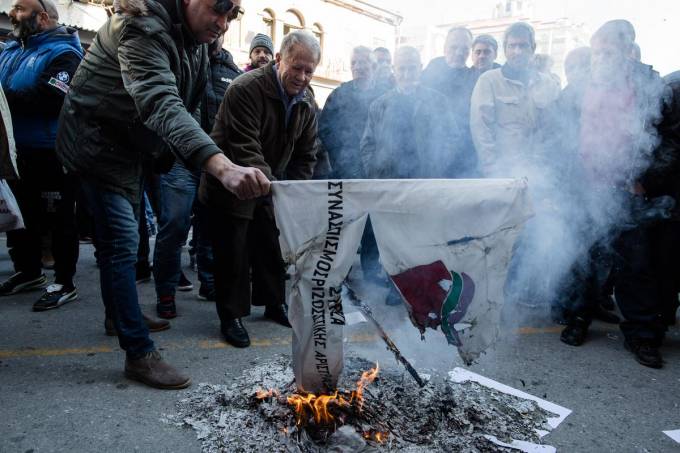 Athens, January 22, 2016/ Independent Balkan News Agency
By Olga Mavrou
Farmers will not move their tractors away and they will stay in 50  key-spots in motorways –that is they will continue to block the roads- demonstrating their decision not to accept the new taxes on them and the social security bill.
Farmers accuse the government that with the over taxation and the social security payments it condemns to poverty  90% of the framers –that is the owners of  medium and small farms.  Government gave a press conference trying to persuade that the new bills ae fair,  saying s that farmers pay less taxes  then the average citizen , and farmers responded by saying  that this is due to the fact that they earn less an that they earn it with a quite hard work –much harder then a civil servant or an employee, that heir product is vulnerable to weather conditions etc. Government refused to revoke the taxation saying that many farmers are earning more the they declare in their tax returns and farmers answered that "if there are tax evaders it is up to the state to  find them, this is their job not ours, they can not punish all farmers for the tax evaders the ministry can not  find"
Eggs and fire on banners of SYRIZA
Furious farmers thre eggs against the office of the party of SYRIZA at Serres  (northern Greece) , and put banners of the governing party on fire.  In another city ( Patra) they demanded that no  representative of the Ministry of Agriculture could visit their city and that the minister  is persona non grata. And though a public speech on the reform bill was organised there by the Ministry, it was finally cancelled. There were also protests and tension in the airport of Kastoria when MPs of SYRIZA arrived there for talks.
Bus on fire
Unidentified men (wearing hoods) threw Cocktail Molotov's bombs  at a trolley bus and burnt it in a central  street of Athens, after obliging  the driver and a passenger (the only passenger on board) to step off.