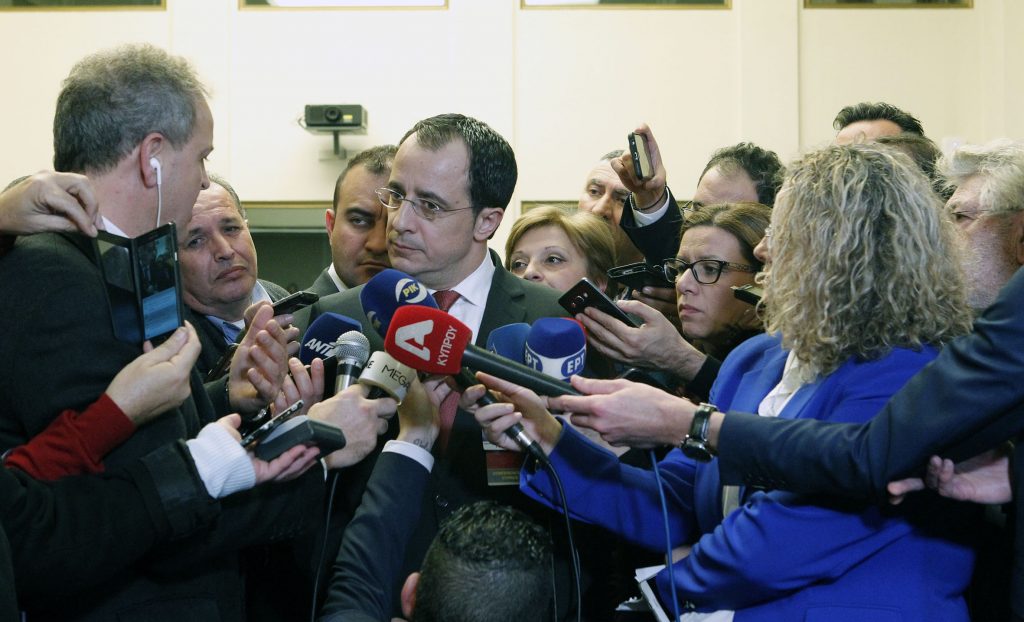 The proceedings of the Conference on Cyprus that took place in Geneva, Switzerland concluded late last night. The Conference was attended by the President of the Republic and leader of the Greek Cypriot community, Nicos Anastasiades, the Turkish Cypriot leader, and the three guarantor powers through their Ministers of Foreign Affairs, in the presence of the President of the European Commission and the High Representative of the European Union for Foreign Affairs and Security Policy.
In his remarks to reporters last night, the Government Spokesman, Mr Nikos Christodoulides, said that "a difficult discussion has begun on the chapter of Security and Guarantees. The Conference on Cyprus which commenced today will continue at the level of technocrats; they will meet on 18 January in order to discuss more specifically and extensively the issue of Security and Guarantees, the concerns, the expectations that exist, and when they prepare the relevant memorandum/conclusion, we will have a continuation of the Conference on Cyprus with the same composition as this Conference has commenced."
He added that "in essence, the proposal of the President of the Republic was the only one that was being discussed, the one that dominated the discussions, as well as the position of the Greek Government as it has been expressed repeatedly by the Prime Minister and the Minister of Foreign Affairs of Greece; and in this framework it is significant that the President, through the very detailed and comprehensive proposal that he submitted, set, to a large extent, the basis of the discussion."
Asked who will represent the Greek Cypriot side on 18 January, the Spokesman replied that it will be the interlocutor, Andreas Mavroyiannis.
In response to a question if the intercommunal dialogue will continue in parallel, the Spokesman said that it will continue on issues that concern the other five chapters, those that relate to the internal dimension of the Cyprus problem.
Responding to another question he said that "tonight the Conference on Cyprus was concluded and we will have its continuation at a technocratic level on 18 January." He added that in this meeting a technocrat from the European Union will be present as well.
Asked whether the Turkish Cypriot community will also participate at a technocratic level, the Spokesman replied affirmatively, noting that it will participate as an interested party.
With regard to what went on yesterday in Geneva, the Spokesman said that "it is a historic Conference for the Cyprus problem," adding that "it was the demand of our side for this dialogue to begin, and taking into consideration the proposal of the President of the Republic that dominated the discussions, we think that it had to take place. Naturally, if we could have had a conclusion, this would have been obviously better."/IBNA
Photo: pio.gov.cy