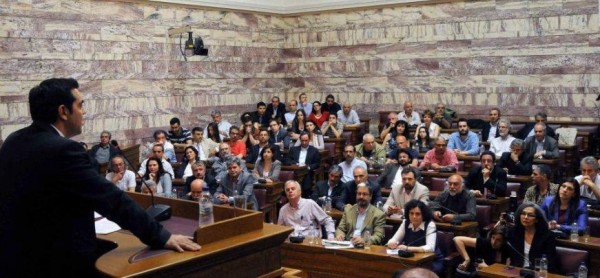 Athens, July 24, 2015/ Independent Balkan News Agency
By Zacharias Petrou
Following the ratification in Greek parliament of the second set of prior actions demanded by the country's creditors, the government's attention now turns to sealing the bailout deal.
The government has said it hopes negotiations on the bailout deal can start this week and be wrapped up by August 20. Finance Minister Euclid Tsakalotos told parliament on Thursday that the vote on prior actions would clear the way for negotiations on the new bailout to begin on Friday.
If the ESM-sponsored bailout is not in place by August 20, Greece will need another bridge loan in order to repay 3.2 billion euros due to the European Central Bank on that date. This will probably require more prior actions to be voted in parliament which could prove tricky in political terms for the ruling coalition.
In Wednesday's vote, Prime Minister Alexis Tsipras saw support from his SYRIZA MPs increase slightly as 36 (out of 149) failed to support the legislation against 39 who did not back the first round of reforms last week.
"We made tough choices, and I personally made difficult, responsible choices. Today we must all redefine the possibilities ahead of us given the new circumstances," Tsipras said in parliament.
Ex-Finance Minister Yanis Varoufakis, who opposed last week's prior actions, voted in favor of the bill but issued a statement saying that he was only doing so to help the government buy time.
Parliament president Zoe Constantopoulou wrote to Prime Minister Alexis Tsipras and President Prokopis Pavlopoulos to complain that the government was using an emergency procedure to pass the bill.
Constantopoulou and Left Platform leader P. Lafazanis are considered favorites to leave Syriza over the PM's decision to abandon Syriza's pre-election pledge of "no more austerity".
However, after meeting with Tsipras on Thursday afternoon, Constantopoulou said keeping the party united was a common objective for both politicians. Her future as Speaker of the House and as a member of Syriza has not been determined though.
Constantopoulou has become a huge problem for Tsipras who is being advised by Syriza and opposition party members to ask for her resignation. The premier is reportedly waiting for her to voluntarily step aside and will not request her resignation before he deals with the internal machinations in Syriza once a deal has been reached with creditors in the autumn.
Meanwhile, government spokeswoman Olga Gerovassili said the divide in the ruling party is clear for all to see and collective party proceedings will follow. State Minister Nikos Pappas also admitted "a rift has been confirmed, but we first have to complete the agreement procedures and then see our party issues".
According to reports in the Greek press it is highly likely that Syriza will split in September before Tsipras calls an early election.
A meeting of the Syriza central committee could be held possibly on the weekend.