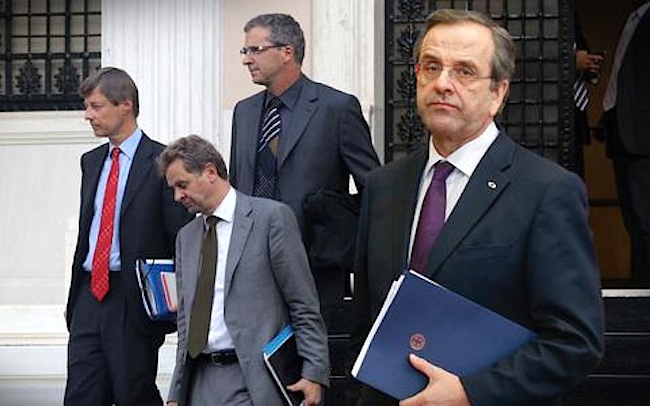 By Lefteris Yallouros – Athens
A Greek government delegation is to meet Tuesday with troika representatives in Paris for two-day talks in search of an agreement that will wrap up the review of Greece's adjustment program in time for a Eurogroup meeting on December 8.
The Paris talks could secure the return of the troika to Athens as well as an agreement regarding Greece's prospects after the end of the European part of its bailout on December 31.
Tuesday's meeting of government officials with representatives of the troika of Greece's lenders in Paris means the conclusion of negotiations is a step closer, related to the completion of the fiscal adjustment program and a new chapter for Greece, Government Vice President and Foreign Minister Evangelos Venizelos said.
Venizelos made the above statement following a meeting at Maximos Mansion with Prime Minister Antonis Samaras, in the presence of Finance Minister Gikas Hardouvelis ahead of the Paris meeting, which is hoped will speed up the evaluation process.
Furthermore, failure to seal an agreement by the end of this year could leave Greek banks unable to use Greek sovereign bonds and government guaranteed bank bonds as collateral to draw liquidity from the ECB.
The deputy PM added that Greece is on a good trajectory and despite the difficulties there will be a solution before needs arise, and definitely before the upcoming election for president of the Republic.
Troika officials on the other hand were less optimistic, indicating that the Paris talks would focus only on the current review and not the prospects for next year. "Both parties continue to work closely together with the aim of concluding the review," European Commission spokeswoman Mina Andreeva said. Another troika source said it would be "very difficult" for the audit to be completed this year.
Following the revelation of the Paris meeting on Monday, Greek government bonds gained, with yields on the country's 10-year benchmark slipping 3 basis points to 7.9 percent in Athens.