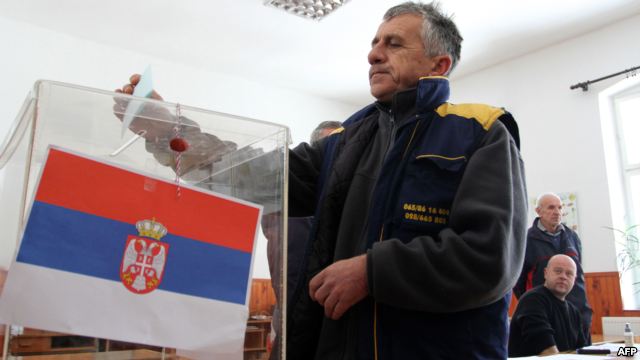 Pristina, February 19, 2014/Independent Balkan News Agency
By Elton Tota
While Serbia has announced early parliamentary elections, which "also include Kosovo", the government of Kosovo has declared that it will not allow Belgrade to hold early parliamentary elections in the territory of Kosovo.
Nevertheless, the government of Kosovo may allow Serbs of Kosovo to vote in the Serb elections.
Besim Collaku, adviser to the prime minister of Kosovo, Hashim Thaci, declared today (19.02) that Serbia cannot hold elections in Kosovo and as a result, there will not be ballot centers in Kosovo.
"There will not be ballot centers, but only gathering points. We establish the technicalities here in Kosovo and we will decide if we need the OSCE assistance. Meanwhile, Serbia will not open ballot centers or anything else in the territory of Kosovo", declared Collaku.
On the other hand, Serb officials insist for elections to be held like those held in 2012.
The head of the Committee on Kosovo in the Serb Assembly, Milovan Drecun expects the elections to be held like last time, under the observation of OSCE.
"I expect the elections to be held like they were held last time, where OSCE played a decisive role in organizing and monitoring them. Of course, it would be very productive for Pristina not to cause problems in the holding of the elections. We're interested for elections to take place in all 57 ballot centers, like it happened last time", said Drecun.
But, representatives of the government of Kosovo have insisted for this not to happen.
"The political environment has changed drastically since the agreement of Brussels, thus there cannot be made comparisons between 2014 and 2012", said Collaku.
Prime Minister of Kosovo has also given his opinion on this, by saying that Belgrade cannot hold elections in Kosovo.
But he has admitted that this can be done by an international institution, in close cooperation with institutions of Kosovo, in compliance with the Laws and Constitution of Kosovo".
Thaci also expressed his conviction that talks between Kosovo and Serbia in Brussels will continue with the same intensity, in spite of extraordinary elections in Serbia.
Kosovo allows dual nationality. Every citizen of the Republic of Kosovo can have the nationality of another country at the same time.
Dusan Janjic from the Forum for Ethnic Relations says that Serbs in Kosovo will be able to vote through e-mail, ordinary mail and in those ballot centers which will be opened by that remaining part of the administration which has functioned in the framework of Serbia's system.
As far as dual nationality is concerned, which according to Janjic, Pristina is mentioning in the context of allowing Serbs of Kosovo to vote for the Parliament of Serbia, he says that the issue of nationality has not been discussed in Brussels and that the dual nationality category exists "de facto" and not "de jure".
Constitutionalists believe that the holding of Serb elections in Kosovo, through ballot centers or gathering points, breach the Constitution of Kosovo. /ibna/