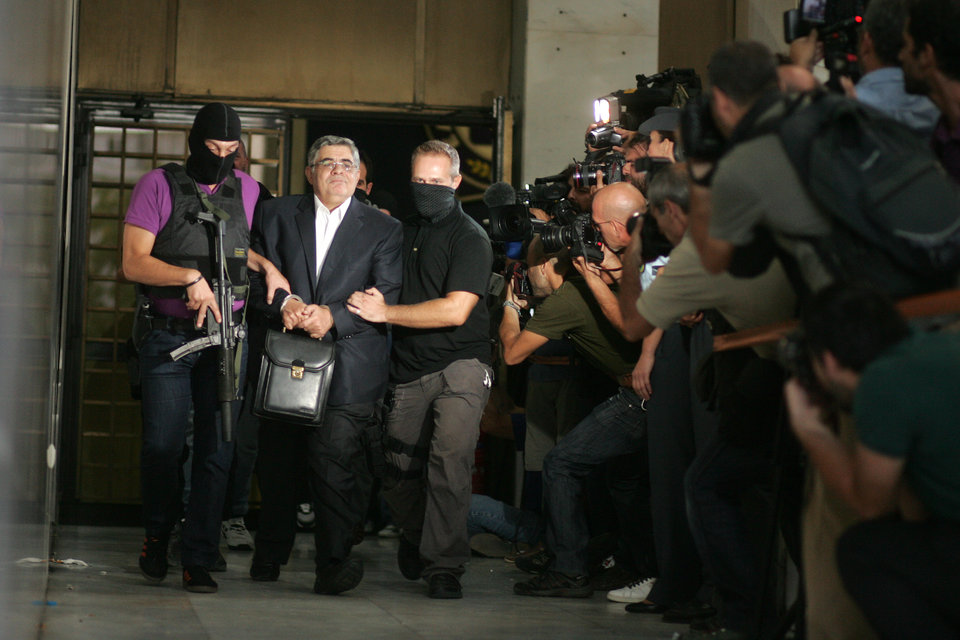 By Lefteris Yallouros – Athens
The leadership of neo – Nazi Golden Dawn is to appear in court this week.
Golden Dawn MP Christos Pappas turned himself in to police on Sunday. Pappas is the party's second-in-command and a close aide to leader Nikos Michaloliakos who was also arrested Saturday along with four other MPs.
A total of 22 people have been arrested in connection with the fatal stabbing two weeks ago of anti-fascism activist Pavlos Fyssas.
A report compiled by the Supreme Court deputy prosecutor five days after a probe was launched into 33 offenses attributed to Golden Dawn, said the party operated as a criminal organization and leveled charges against MPs and officials of belonging to a criminal organization.
Charges include ten counts of murder and attempted murder as well as money laundering, extortion and intent to commit crimes.
Nikos Michaloliakos will appear in court on Wednesday and Christos Pappas will follow on Thursday. The party's other MPs will appear before a magistrate Tuesday.
The arrested MPs won't lose their seats in parliament, unless there is a final court ruling against them. However, if the lawmakers decide to resign, it could prompt by-elections in 15 regions nationwide where it holds seats.
Prime Minister Antonis Samaras ruled out the possibility of snap elections.
The government is due to submit in Parliament draft legislation on Monday that would potentially suspend state funding to political parties whose leaders or lawmakers have had criminal charges brought against them. The government expects the new antiracism law to better address hate speech, extremism and attacks against immigrants.