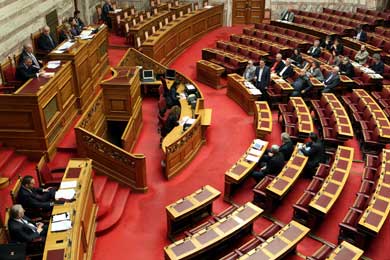 Stournaras says aim is for vote on prior actions to be held by Sunday
Government officials were scrambling on Monday to draft a multi-bill containing a series of "prior actions" agreed with the troika, including a contentious streamlining of the civil service, in a bid to vote the legislation through Parliament by Sunday and secure the release of 8.8 billion euros in rescue loans.
Finance Minister Yannis Stournaras said he would brief coalition officials on the measures on Tuesday before submitting the bill to Parliament on Thursday under an emergency procedure. The vote must take place by Sunday as next week is Holy Week ahead of Orthodox Easter and Parliament will not be sitting, Stournaras said.