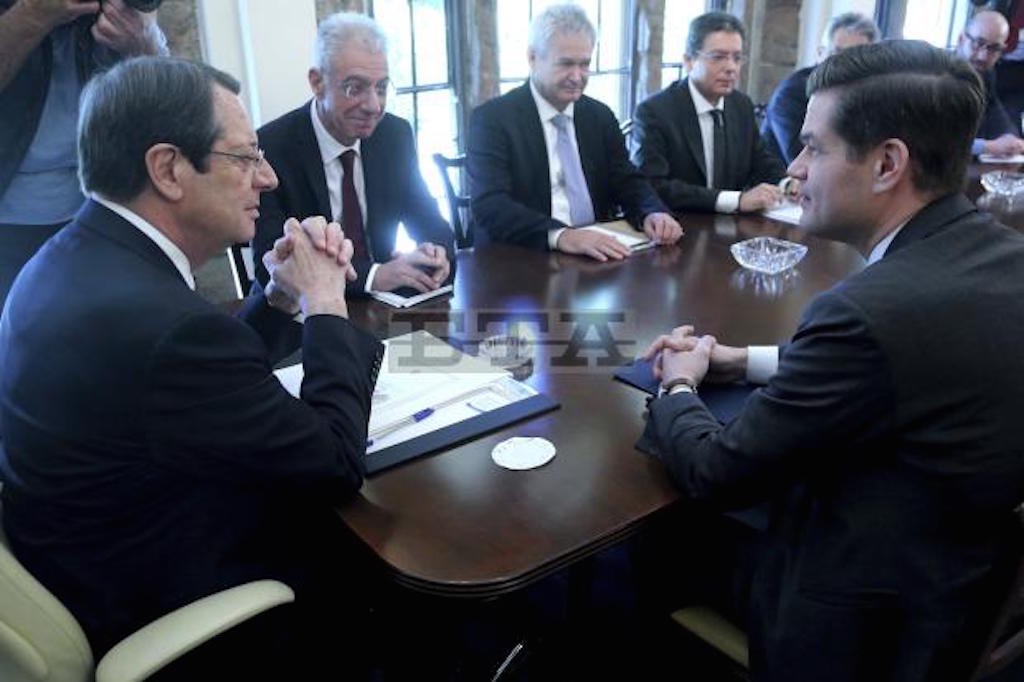 Cyprus Government's satisfaction with the support of the United States for the resumption of negotiations on the Cyprus issue, as well as for the sovereign rights of the Republic of Cyprus to explore and exploit its natural wealth, was expressed today by the Government Spokesman, Prodromos Prodromou.
In his statements to reporters, after the meeting of the President of the Republic, Nicos Anastasiades, with the U.S. Assistant Secretary of State responsible for European and Eurasian Affairs, Wess Mitchell, Mr. Prodromou said that "it was an important and constructive meeting with the new US Undersecretary of State.
At the meeting there was of course a discussion about the Cyprus problem. The President of the Republic had the opportunity to reiterate his readiness to continue the negotiations and we were pleased to hear the US support for the negotiation process within the parameters of the United Nations and we hope that this support will contribute to the continuation of the negotiations, as is our goal.
Of course, the meeting also focused on the energy policy and the energy program of the Republic of Cyprus, as part of an effort for our region to contribute to the energy equivalence and energy security in Europe.
It is with satisfaction that we have heard Mr Michelle's statements and we should also express our thanks for the resumption of US support to sovereign rights and our country's right to explore and exploit its energy resources".
Prodromou also said that there was a discussion between the two men on bilateral issues and regional developments, "as from the point of view of the United States, Cyprus plays a role in regional security. Of course, there was a reaffirmation that there is a desire to continue and strengthen bilateral relations, while close cooperation at all levels was reaffirmed".
"It is positive and important that this visit, which is the first of the Assistant Secretary of State since his assumption of office, signals that the US will have an active role in the region and we are looking forward for this renewed relationship, which the President of the Republic has upgraded in recent years, to bear fruit, and that [this relationship] will be able to contribute to the dialogue, to find a solution for peace in the region and for the peaceful exploitation of the wealth of our country for all Cypriots" .
On his part, Mitchell said after the meeting that "I had a very warm and cordial discussion with President Anastasiades and it was important for me on one of my first trips in my capacity to come to Cyprus. I reiterated to the President our appreciation for this strategic cooperation we have with the Republic of Cyprus.
I also reiterated our desire to see the resumption of talks and our support for a bi-zonal bi-communal federation. I reiterated that the US supports the Republic of Cyprus in its right to develop its natural resources, including [natural resources] in the EEZ.
I will have discussions during my stay here with both communities, later today I will speak with Mr Akıncı and I am really glad to be here. We are very supportive of the Republic of Cyprus, we appreciate the long-standing friendship and I look forward to returning"./IBNA