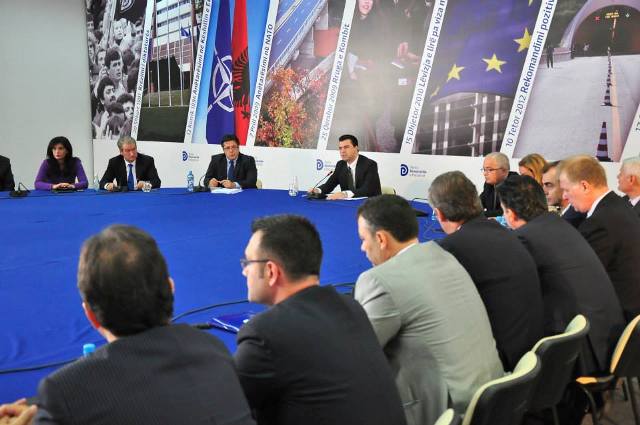 Tirana, October 28, 2013
Leader of Democratic Party in opposition, Lulzim Basha declared today during the meeting of the parliamentary group of this party that DP offers its support and its contribution for the process of integration and this was also confirmed in a meeting with the delegation of the European Parliament held today.
Basha said that the government has made steps forward to destroy the economy, while praising the speeches of democrat MPs in parliament during the parliamentary sessions where changes in the budget were voted.
Basha guarantees that the strong opposition will continue like it has been promised, stressing that Albanians realized that the government borrowed with one hand and with the other, it will leave taxes uncollected, by doubling the debt of the country.
"This is and remains a financial crime which is carried out in cold-bloodedness. This is the first time that the government gives up on the collection of taxes. Citizens ask as to where the money lacking to the treasury will go. It's our mission to respond to them about this issue", said Basha.
The head of the Democrat Party also stopped on the political situation in the country, in the campaign against the Constitution, against dialogue, while stressing that there many of his colleagues at the European People's Parties Summit, where he participated, weren't surprised.
According to him, unlawfulness has been shaped and is worrying the representatives of every country, while the opposition, the Democratic Party and the parliamentary group are in a battle against lawfulness.
Basha said that it has an imposed agenda, declaring that the decision of the opposition and its stance will further continue, but added that the government is risking stability and integration process. /ibna/