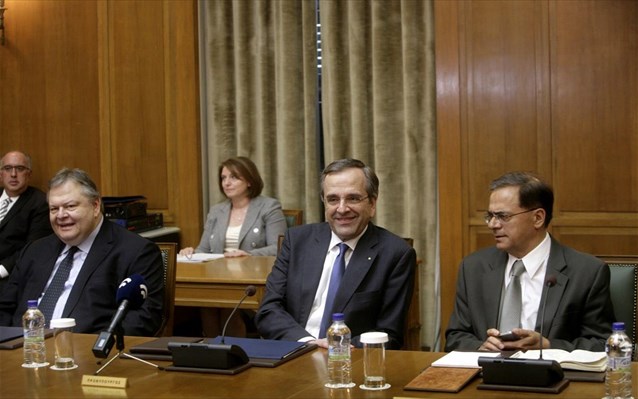 By Lefteris Yallouros – Athens
The Greek government is settling scores before crucial talks with troika auditors in Paris kick off September 2-4.
Before putting final touches on the strategy to be followed in the crucial Paris talks, the issues of correcting mistakes in the property tax law (ENFIA) and finalizing an anti-racism bill to be tabled in Parliament were settled on Tuesday.
The one off property tax, known as ENFIA, will be paid in six installments it was finally decided in a broad meeting chaired by the PM, with the presence of government vice president Evangelos Venizelos, finance minister Gikas Hardouvelis, and depury miniser Christos Staikouras.
Amongst many changes made, the finance ministry is to correct property prices in 4.000 areas, so that their taxable value can be calculated at a more reasonable rate. The new tax law caused outrage amongst citizens as it was deemed unfair and the government was forced to modify it.
Furthermore, a controversial anti-racism bill which has been repeatedly delayed and redrafted will be tabled in Parliament next week, it was decided Tuesday. The bill provides for harsher penalties for citizens and political parties which engage in racism, hate speech or incite racist violence. The bill was opposed by 38 conservative New Democracy MPs who wanted a clause included banning the rejection of the genocide of Christians in Asia Minor and of Black Sea Greeks.
Having made progress on two thorny issues, Prime Minister Antonis Samaras and Deputy PM Evangelos Venizelos will meet on Wednesday to finalize their strategy ahead of government talks with the troika and determine a way forward on outstanding prior actions (such as laying off 6,500 civil servants by the end of the year) ahead of the troika's expected return to Athens in mid-September.
The conclusion of the fifth review of Greece's adjustment program is fast approaching and these final meetings with troika auditors will determine the need for a third bailout package as well as pave the way for Greece to negotiate debt relief with EU counterparts. The latest troika audit will examine progress made in relation to the social security system, employment, a financing gap and the new budget as well as market deregulation.