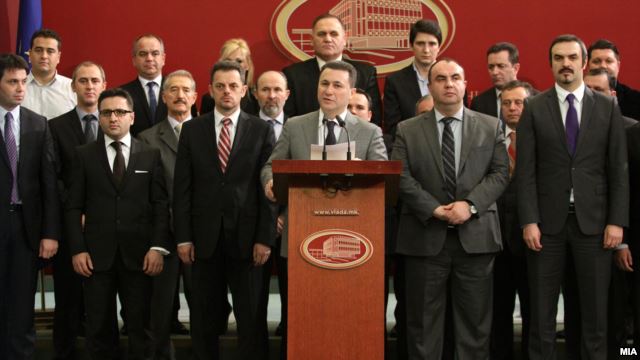 Skopje, June 11, 2014/Independent Balkan News Agency
By Naser Pajaziti
Government of FYR Macedonia has a significantly high number of ministries. This government is comprised of 26 ministries, 7 of which will be ministers without a portfolio or ministers who have been indirectly appointed to attract foreign investments.
The government proposed by VMRO-DPMNE's Nikoa Gruevski is the biggest one in the region, as opposed to governments of Serbia and Bulgaria which have 19 members, Croatia which has 21 members and government of Greece with 17 members.
Analyst and head of "Libertas Institute in Skopje, Edmond Ademi told IBNA that such over inflated government team is unnecessary, but according to him, this is done in order to satisfy the appetite of political parties.
"This is done in order to fulfill the personal objectives of the coalition partners, especially small parties which are in a coalition with VMRO-DPMNE. It has not been determined what will be the role of seven ministers without a portfolio", says Ademi.
But, other analysts say that ministers without portfolio or those who have been appointed to attract foreign investments consist on small teams. Analyst Sasho Klekovski says that ministers are important for the attraction of investors. "For foreign partners, it's important to have the presence of a minister in the table of negotiations, more than the presence of a lower rank government administrator. I believe that Gruevski wants to boost efforts to attract foreign investors", says Klekovski.
Prime minister Nikola Gruevski said that his cabinet will be large and will focus on two important priorities, Euro Atlantic integration and economy by attracting foreign investors. "The government will focus on attracting foreign investments and this is why we have increased the number of ministers without portfolio who will work for this", said Gruevski.
According to the constitutional framework for the government, a minister without portfolio has his cabinet with a small team, with a personal driver and restricted powers. The stipend of this minister is over 1 thousand Euros a month and he also receives several other benefits. Prime minister Gruevski has said that the importance of such minister is great if he's efficient in his work and that this doesn't even over burden the state budget.
The governing coalition is comprised of two parties, VMRO-DPMNE of Nikola Gruevski and Albanian party BDI (Democratic Union for Integration). Both of these parties won the elections.
Albanian party in this coalition will have two posts of deputy prime ministers and six ministries, while the rest will be controlled by VMRO-DPMNE and other small parties of the coalition.
The government will still have ministers who were part of the last government with three deputy prime ministers among them: deputy prime minister for economic affairs, Zoran Stavrevski, deputy prime minister for the Ohrid Agreement, Musa Xhaferri and deputy prime minister for European integration, Fatmir Besimi.
The new government cabinet is expected to be voted in parliament on June 19. /ibna/