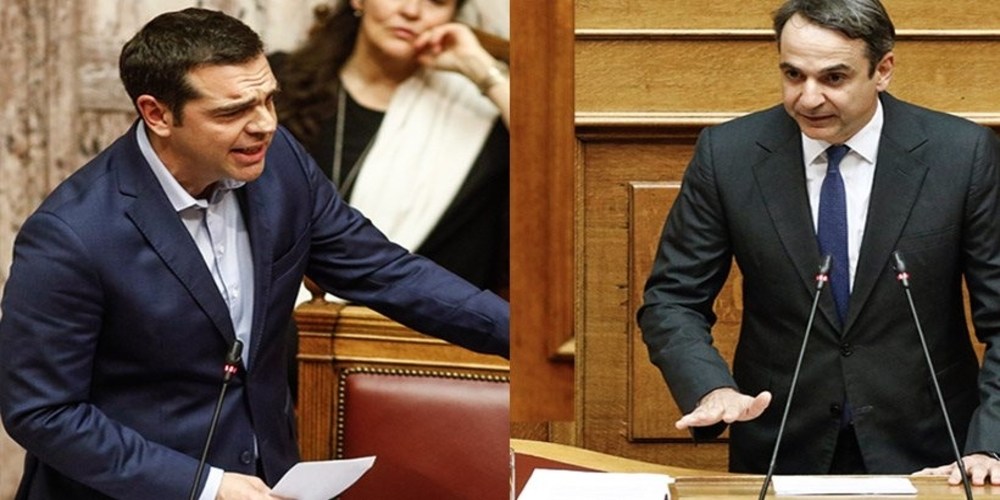 The government and main opposition expressed two completely different outlooks of the Greek economy on Monday following another Stock Market slide which saw bank stocks under renewed pressure over doubts about their management of non-performing loans (NPLs).
A bank stock sell-off continued amid uncertainty over the government's plans for a special-purpose vehicle to guarantee bad loans. The yield on Greece's 10-year benchmark bond shot up 14 basis points to 4.65 percent.
The leader of main opposition New Democracy, Kyriakos Mitsotakis, took the opportunity to attack the government's record in the economy, while reiterating his call for an early election.
He cited the "political risk" that the current SYRIZA/ANEL coalition poses as the main driver of the stock market decline in recent days. The minor opposition parties, Movement for Change and To Potami also attacked the government's handling of the economy in general.
The government spokesman, Dimitris Tzanakopoulos, meanwhile, painted a different picture. He said, during a radio interview, that political, economic and fiscal stability is guaranteed in the best possible way, adding that banks are fully protected and any fluctuations on the stock market do not affect their capital adequacy.
The spokesman attributed the pressure on Greek stock on political and economic developments in neighboring Italy, while pointing out that the NPLs of Greek banks are being systematically reduced according to set targets.
He went on to aim a vailed dig at a proposal previously made by Bank of Greece governor Yannis Stournaras that Greece applies for a precautionary credit line that would reassure investors and safeguard the economy from shocks. Tzanakopoulos said the central banker was vocal when he shouldn't be and silent when he should speak up in defence of the economy.
He also pointed out that Greece has its financing requirements covered for the next two years and is in no rush to tap debt markets.
On Monday, shares took a hit for a fourth day running, with the banking sector sliding 6.45 percent. The ASE general index ended at 641.79 points, shedding 2.61 percent from Friday's 658.97 points. The large-cap FTSE-25 index contracted 2.80 percent to 1,682.10 points.
Meanwhile, Fitch Ratings upgraded the Long-Term Issuer Default Ratings (IDR) of Greece's four systemic banks. Alpha Bank and National Bank of Greece were upgraded to 'CCC+' from 'RD'. Eurobank and Piraeus Bank went to 'CCC' from 'RD'.
At the same time, Fitch upgraded the four banks' Short-Term IDRs to 'C' from 'RD'. The upgrades reflect the recent lifting of capital controls in the country…. / ΙΒΝΑ
Main Photo (File): Greek PM Alexis Tsipras (L), main opposition New Democracy (ND) leader, Kyriakos Mitsotakis