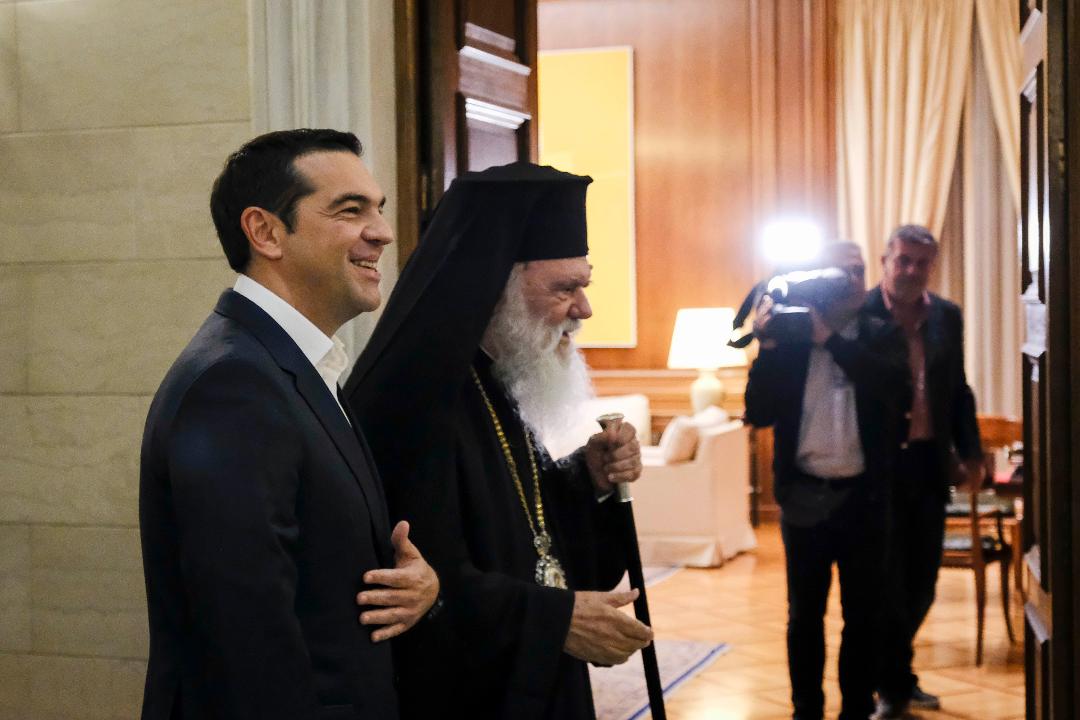 The government appeared to be performing a balancing act on Tuesday in its attempt to see a deal struck between the Prime Minister and Archbishop of Athens and All Greece Ieronymos to reform State-Church ties gather support.
Referring to recent tension in State-Church relations, government spokesman Dimitris Tzanakopoulos said during a press briefing on Tuesday that Prime Minister Alexis Tsipras has ordered Education Minister Costas Gavroglou to launch a series of meetings with Ecumenical Patriarch Bartholomew, Archbishop Ieronymos, the Archbishop of Crete, Irineos as well as with the metropolitans of the Dodecanese in order to discuss points of the agreement struck between Tsipras and Ieronymos that may not have been clear to the representatives of the Church.
"The government will exhaust every opportunity for dialogue and consultation with the Church in the framework and the spirit of the agreement announced" Tzanakopoulos made clear.
The government spokesman's conciliatory tone was made necessary after it became apparent that over 70 bishops oppose the agreement Ieronymos struck with Tsipras. The SYRIZA-ANEL coalition is being accused by some within the Church of Greece of behaving "unacceptably" towards the Church. The Archbishop is also criticized by some circles of mistakenly putting his trust in the Prime Minister.
It appears that a government decision to immediately announce its intention to hire 10,000 civil servants once clerics were removed from the State pay-roll as per the Tsipras-Ieronymos agreement, has angered members of the Church of Greece.
Tzanakopoulos clarified on Tuesday that the government never said it will fire clerics, but its intention was merely to reform their payment scheme. He was also adamant that social security and labor rights will not be affected, adding that dialogue with the Church will continue in order for this to become even clearer.
Moreover, in an interview, influential SYRIZA MEP Dimitris Papadimoulis did not rule out some sort of "constitutional safeguard" guaranteeing the salary payments of clerics. Such a notion had so far been rejected by government sources./IBNA