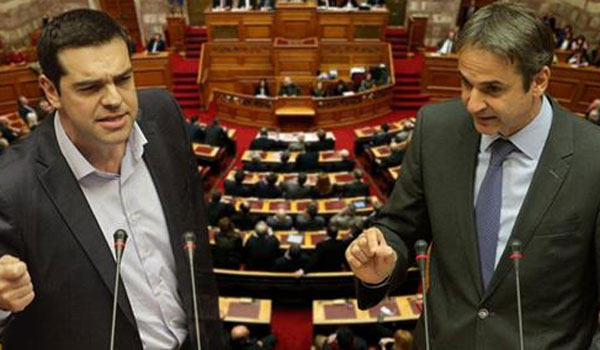 A Kapa Research opinion poll puts New Democracy 6.1 points ahead of Syriza. Specifically, the main opposition party is on 22.7% with Syriza on 16.6% followed by the Democratic Alliance on 6.9%, which is the most significant finding of the poll, as the center-left party appears to be gathering momentum ahead of an election to pick a new president in November.
Golden Dawn drops to fourth position with 6.5% while the Communist Party took 6% of voter preference. ANEL, To Potami and the Union of Centrists parties all fall below the 3% threshold for entry to parliament.
Commenting on the findings of latest opinion polls, government sources said surveys now showed "New Democracy's narrative is collapsing", adding that after the conclusion of the second review, the political climate has changed and a new era is beginning.
The government also referred to the findings of a Common View poll which showed the majority of Greeks trusting Syriza on handling social policy more than New Democracy. The survey also put Syriza on 24%, just three points behind New Democracy on 27%. The main opposition party later issued an announcement denouncing the pollster, adding that the party will file a complaint.
An Alco poll also shows that respondents support the coalition's efforts to safeguard labor rights, the government source said.
According to the aforementioned government source, the Kapa Research poll shows Syriza edge higher and New Democracy drop, compared to the previous poll. However, media reports point out that the fact that the poll was conducted at the time of Emmanuel Macron's high-profile visit and before the Eldorado Gold crisis and the oil spill in the Saronic Gulf which have significantly damaged the government's appeal.
The tussle between the government and New Democracy comes as the government is attempting to regain control of the political agenda following the press conferences of Alexis Tsipras and Kyriacos Mitsotakis at the Thessaloniki International Fair./IBNA