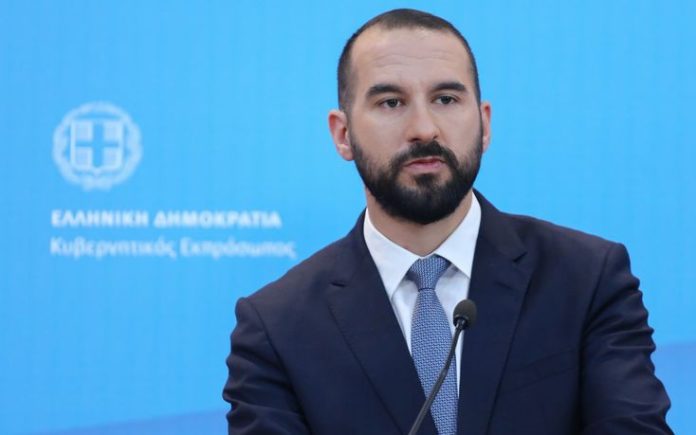 By Nikos Fragopoulos of Skopje News
The conviction that in the coming months a solution will be found to the problem with the name of fYROMacedonia, which has plagued Greece for 25 years, expressed the government spokesman, Dimitris Tzanakopoulos.
During a journalists' briefing, to a question whether he confirms reports that a solution has been agreed with the name "Democracy of New Macedonia", he said he would not discuss names at this point.
"We will intensify the negotiations in the coming days. A window of opportunity has opened. What interests the government is not to indulge in no-stop conversations about the nomenclature, but to find in the next few months a solution to the problem that has plagued Greece for 25 years", said the government representative.
Tzanakopoulos added that "we have made a call to the opposition and we welcome the parties that have taken a clear position. As long as we have progress in the negotiations, if there are positive steps, obviously the political leaders will be informed".
On Monday evening, Greek Foreign Minister Nikos Kotzias stressed that "we want to give fYROM a name that will be distinctly different from Greek Macedonia", while reiterated that the government is discussing a composite name for a single use.
At the same time, Kotzias ruled out the possibility that fYROMacedonia would join NATO without a solution to the name issue, while at the same time downgraded the objections of Greek defence minister and president of coalition party "Independent Greeks" (ANEL), Panos Kammenos.
Mitsotakis: The government secretly negotiates with Skopje
The president of main opposition party New Democracy, Kyriakos Mitsotakis, on Tuesday unleashed an attack on the SYRIZA-ANEL government, regarding the developments on the name issue.
Speaking during a party meeeting, the leader of the main opposition stressed that "the government secretly negotiates with Skopje" and added: "I have no confidence in the Government".
Referring specifically to the name issue, Kyriakos Mitsotakis noted that "the minimum that the Maximus Mansion can do is to defend the Bucharest acquis and, indeed, its whole".
"The issue is not just about naming. Anything less can not be accepted, like it is obviously not possible to accept any fragmentary solution that does not address the matter in its entirety. And it is not only the name, but also the unacceptable statements of irredentism by the neighbours", continued the leader of the main opposition.
"I call on the government to inform us: What are they discussing? What are they negotiating?", Mitsotakis stressed.