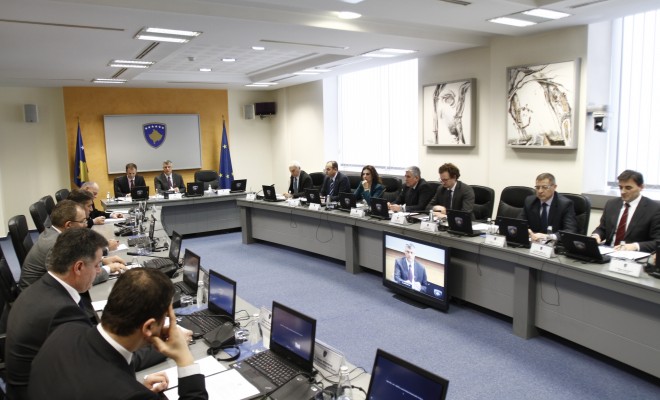 Pristina, February 27, 2014/Independent Balkan News Agency
By Elton Tota
Prime minister of Kosovo, Hashim Thaci declared in today's (27.02) government meeting that the decision for the increase of wages for public servants has been finalized and added that this decision will involve around 82 thousand workers of all categories.
He said that there are still some technicalities to be clarified and finalized and the decision will be taken until tomorrow or Monday afternoon.
"Increase of salaries will include nurses, doctors, police officers, university professors, teachers, firefighters, administration workers, civil servants, prosecutors, judges, customs officers, tax administration inspectors, all members of Kosovo Security Forces, invalids of war, families of martyrs, veterans, miners and pensioners", said Thaci.
Thaci also said that from 2007 until 2013, salaries for these categories have regularly increased.
In the past 6 years, salaries for university professors has increased 100%, salaries for doctors and nurses has increased by 86%, for police officers 54%, for teachers 50%, for firefighters 43%, for administration workers and prosecutors 149%, for judges 163% and customs officers and tax administration inspectors, 143%.
Invalids of war and families of martyrs have also benefited an increase of 70% from 2007.
Last year, there was a 26% increase on pensions.
With this new decision of the government which is expected to be published until Monday, there will also be an increase of salaries for scientific institutions, including the Albanologic Institute and History Institute.
Average wage and comparison to the region
The average public servant salary in Kosovo varies from 290 to 375 Euros, based on the education. This is the lowest salary in the countries of the region, where average salary in Serbia is 330 Euros and in Slovenia 1 thousand Euros.
With the new decision, pay increases will be 20% or starting from 70 Euros a month.
According to data from the region, average wage in Albania, Bulgaria and FYR Macedonia is 380 Euros, in Bosnia and Herzegovina it's 450 Euros, in Romania it's 480 Euros, in Montenegro it's 530 Euros, in Croatia it's 800 Euros and average wage in Slovenia is 1 thousand Euros.
Based on these comparisons amongst wages in the region, low wages in Kosovo are affected by the high number of workers in the public sector, the high level of pensioners and those who live on social welfare, failed privatization, high corruption, low quality of services and lack of foreign investments. /ibna/