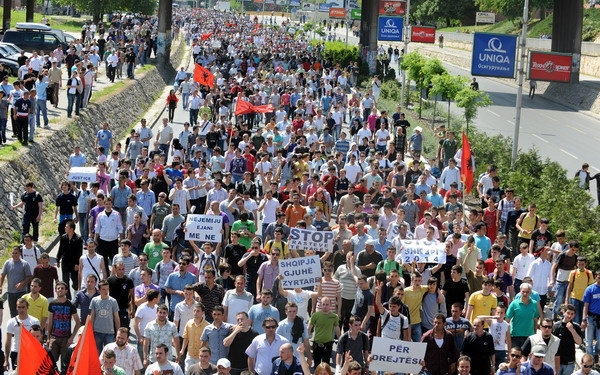 Pristina, July 10, 2014/Independent Balkan News Agency
By Elton Tota
Government of the Republic of Kosovo issued a press statement today where it says that it's closely following the latest developments in FYR Macedonia, while expressing its concern about the rising conflicts and calls on all parties to remain calm in order to avoid any further escalation of the situation.
The government of the Republic of Kosovo demands from the authorities in FYROM to guarantee their human rights and in this case, their right to protest in a peaceful manner.
Through this statement, the government of Kosovo requires maximum transparency in trials, especially in the delicate "Monstra" case, not to leave room for political interpretations or the cultivation of cross ethnic hatred.
"Government of Kosovo calls on Albanian citizens of the Republic of Macedonia to act with maturity and self containment, by following the path of dialogue and institutions for the solution of the problems. The government also invites them not to fall a victim of provocations that come from  given segments which aim at further escalating the situation and which do not represent the will of the Albanian population in Macedonia. These groups follow specific agendas which are against national interests, therefore, citizens are invited not to collaborate with them and not to be influenced by them", reads the press statement issued by the government of Kosovo.
The statement further says that all actors of public life in FYROM must act in order to deescalate the situation and prevent degradation of Friday's protests in violence.
"Everyone must work together to build peace and cooperation in the Balkan, because the path of dialogue and understanding are the best form of solving problems of society", concludes the statement of the government of Kosovo. /ibna/