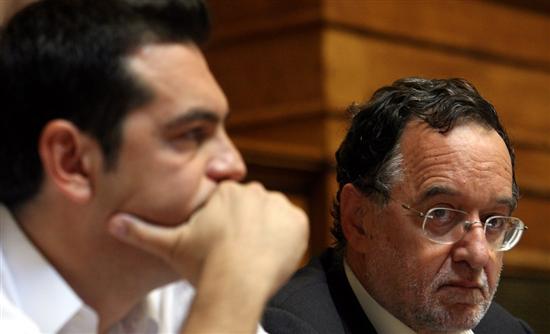 Athens, July 22, 2015/ Independent Balkan News Agency
By Zacharias Petrou
The Greek Prime Minister is feeling the political weight on his shoulders ahead of Wednesday's vote of prior actions in parliament where he stands to lose more rebel Syriza MPs.
Parliament will vote on a series of measures including justice and banking reforms. However, the government removed changes in early retirement and tax hikes on farmers from the bill in order to fight off a Syriza rebellion and ensure the votes of the opposition parties.
The prior actions agreed between Greece and its creditors comprise changes to VAT, the pension issue, establishing the full independence of the statistics agency and adopting measures to boost governance. All those measures were voted through Parliament last week with the exception of pensions which has been postponed following an agreement with creditors.
A code of civil procedure, aimed at speeding up court cases, and the adoption of European legislation to bolster banks will go to a vote on Wednesday.
Controversy
"The government wants to make it clear that none of the prior actions relates to changes in the tax status of farmers," government spokeswoman Olga Gerovasili said on Tuesday.
Reports suggested earlier that the controversial tax hikes for farmers would be brought to parliament later, most probably August 5. However, Gerovasili said reports in the press suggesting this would occur are "groundless".
Some government officials suggest that if support from lawmakers from within the governing coalition dropped below 120 votes, early elections would have to be called while the bailout was still being negotiated.
Dropping below 120 would be a heavy symbolic blow but it is not certain that Tsipras will have to step down.
Opposition
Meanwhile, New Democracy leader Vangelis Meimarakis said on Monday that he has no reason to join an all-party government and would not advocate it. Meimarakis also said he felt elections now would be catastrophic for the country, adding that if, however, they went ahead his party would win.
Bailout
Bloomberg reported on Tuesday that Greece's creditors plan to conclude talks on the terms attached to the country's new bailout by Aug. 6 and disburse the first tranche by Aug. 17, citing an international official with knowledge of the matter.
According to the official, national parliaments that have to approve the bailout need to do so by Aug. 13 so that a disbursement can take place in time for a bond redemption of about 3.2 billion euros for notes held by the ECB.
To release aid before that ECB payment comes due, the Greek parliament must approve all the prior actions set by creditors by Aug. 7, the official said.
According to government spokeswoman Olga Gerovasili,  Greece will begin negotiations with creditors immediately after approving a set of prior actions with the aim of concluding by August 20.
Debt
Ideally for the Greek government, if a snap election is deemed necessary by the Prime Minister after all prior actions have been pushed through parliament and the new bailout deal has been ratified, that should come after Greece has secured some of debt relief also.
European Commissioner for Economic and Financial Affairs, P. Moscovici, said on Tuesday that debt relief could be granted to Greece after reforms are implemented but there is resistance to a nominal haircut.
Moscovici added Greece needs the correct economic policy in order to stay in the euro.