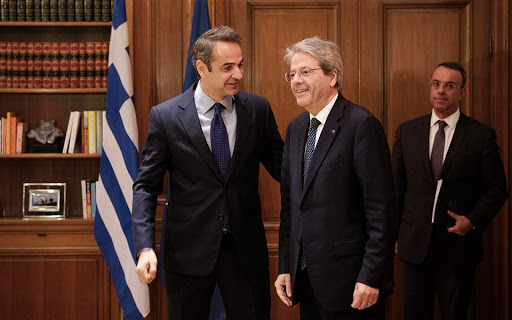 The Greek government is gearing up to create more fiscal space through a set of initiatives in the upcoming period.
The Mitsotakis administration will attempt to convince the country's international creditors to allow the use of profits made by Eurozone central banks on SMPs and ANFAs; to carry over any excess primary surplus cash to the following year; and to exclude funds used to manage refugee and migrant flows from the budget surplus.
Athens was encouraged from the visit of European Commissioner for the Economy Paolo Gentiloni and his talks with Prime Minister Kyriacos Mitsotakis and other Greek government officials. The Commissioner revealed that if Athens clinches positive reviews of the economy in coming weeks, it could hope to renegotiate some of its post-bailout terms as early as next month.
"I think that there are all the (right) conditions to have a good report, and a good report could pave the way to decisions, and also to open the discussion about the possibility to change our targets on surplus," Gentiloni told Mitsotakis.
The SMPs and ANFAs issue is expected to be discussed in the context of the sixth post-bailout review, with a Eurogroup meeting in June prospectively taking a final decision on the matter, as the Commissioner revealed.
In any case, the Greek side can design a road map of actions that could be unlocked, should it continue its reform drive and impressive economic turnaround in 2020.
The country's Finance Ministry wants to complete all prior actions in the context of the ongoing 5th review by 15 February, including energy market reform, slashing state arrears to private individuals and business and the reduction of non-performing loans.
Finance Minister Christos Staikouras sounded optimistic after meeting with Gentiloni. "We are regaining confidence at home and abroad […] the economy is improving and stabilizing," he said./ibna