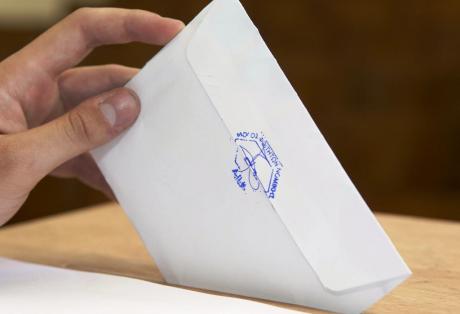 By Lefteris Yallouros – Athens
The first of a double election battle will take place Sunday in Greece as the first round of local elections will be held. The election will enter the second round on the same day as the European Parliament election will be held, May 25th.
Latest polls show the local elections are likely to see New Democracy and PASOK – backed candidates perform rather well. Yannis Sgouros, backed by PASOK maintains a lead over SYRIZA candidate Rena Dourou in the Attica prefecture. In the Athens municipality Georgos Kaminis – backed by PASOK and DIMAR – is ahead of New Democracy candidate Aris Spiliotopoulos who comes in second ahead of Gavriil Sakellarides backed by SYRIZA. In Piraeus, independent candidate Yannis Moralis is behind New Democracy – backed Vasilis Michaloliakos. The governing coalition is also expected to be victorious in the municipality and prefecture of Thessaloniki.
The main goal for SYRIZA is to see their candidates in Athens and Attica reach the second round with Rena Dourou being the great hope. For the main opposition party, the European Parliament election appears to be of greater importance.  Coupled with a strong European result, winning Athens will enable Syriza to celebrate victory against the government.
Party leader Alexis Tsipras has stated: "Our goal is (on May 25) to record a major victory… so that on (May 26) the government will leave."
A poll conducted by Alco Friday shows SYRIZA is ahead with 23.4 pct with New Democracy in second (22 pct) and neo-Nazi Golden Dawn in third (7.3 pct). Newcomer Stavros Theodorakis – who is the most popular leader according to the poll – see his party "The River" (Potami) in fourth with 7 pct while the PASOK – led "Olive" coalition (Elia) gets 5.1 pct. The Communist Party has 5 pct while "Independent Greeks" party gets 4.6 pct and left-wing DIMAR is on 2.4 pct.
Should polls be proven correct, SYRIZA will be claim victory May 25th. However, depending on how well PASOK fairs and what the margin of a SYRIZA victory will be, Alexis Tsipras may have valid ground to corner the Prime Minister into calling an early general election.
Deputy Prime Minister Evangelos Venizelos ruled out an early vote on Friday. However, he has stressed recently that how well PASOK does in the euro-election will determine whether or not the party will continue in the governing coalition. His own future as leader of the party will also be put into doubt should PASOK collapse.
The prospect of the 27 PASOK MPs withdrawing their support could deter the foreign investors helping to fuel the recovery, according to Megan Greene, chief economist at Maverick Intelligence and a columnist with Bloomberg View.
"If there were snap elections and investors were spooked by the prospect of SYRIZA being the negotiator for Greece, it could really hurt the Greek recovery because it's so fragile," she said in a telephone interview.