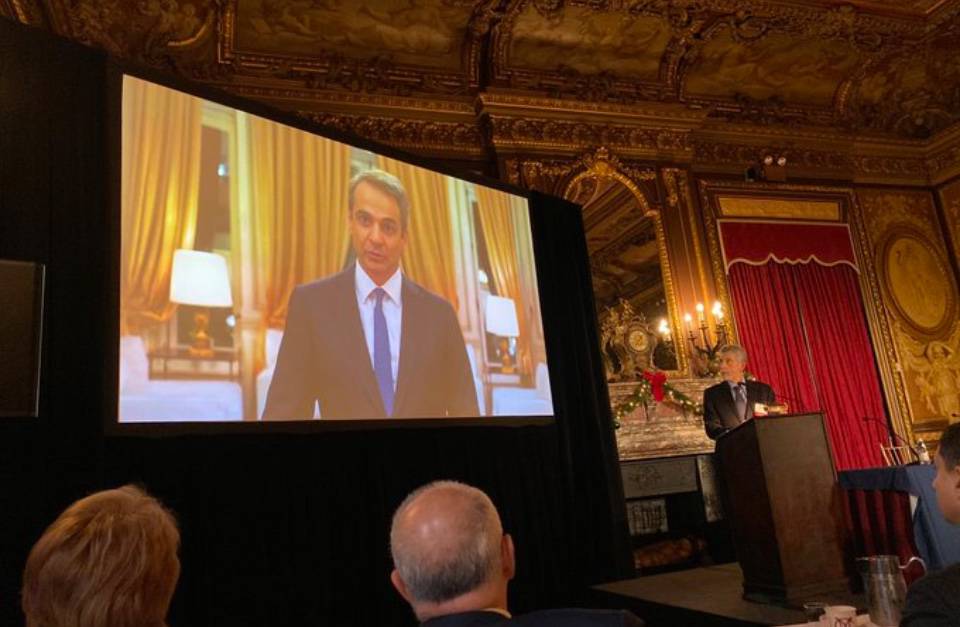 Prime Minister Kyriakos Mitsotakis addressed the US business community in New York via a recorded message on Thursday, during the 21st Annual Capital Link Invest in Greece Forum.
Mitsotakis pointed to a "multitude of reforms" and "structural change" carried out under his administration, while urging investors to explore and take advantage of business opportunities in the country.
"A new era of economic opportunities is dawning in Greece […] The current business climate in Greece is characterized by an overwhelming support for foreign investment. This development is reflected in numerous surveys, which identify high approval rates for government initiatives related to creating a friendlier business environment".
Tellingly, the PM pointed to a recent change of perception and public opinion in Greece, favoring foreign investment, privatizations and reform in general. He went on to make clear that Greece has a stable government with a four-year mandate to take ownership of necessary structural reform.
Finance Minister Christos Staikouras is also set to put out a strong message that "Greece is back" after a decade-long crisis, when he meets with investors in the US. Staikouras has travelled to New York along with Tourism Minister Haris Theocharis, Development & investment Minister Adonis Georgiadis and Shipping Minister Yannis Plakiotakis – among other officials – for direct talks with potential investors.
The minister is set to meet with representatives of major investment firms including PIMCO, Goldman Sachs, Citibank, BlackRock, BlueCrest, Morgan Stanley, Helm, Nomura and Third Point. Meanwhile, he will also attend "Greek Day" at the New York Stock Exchange.
Finally, as part of effort to boost the economy and attract skilled workers to Greece, Labor Minister Yannis Vroutsis announced plans for a pilot program aimed at the repatriation of 500 Greeks who are currently based abroad, in the context of a project titled "Rebrain Greece".
Vroutsis presented the initiative, which aims to create an attractive environment for bringing back Greeks aged between 25 and 40 with a high level of scientific and professional experience, who left the country during the crisis years./ibna