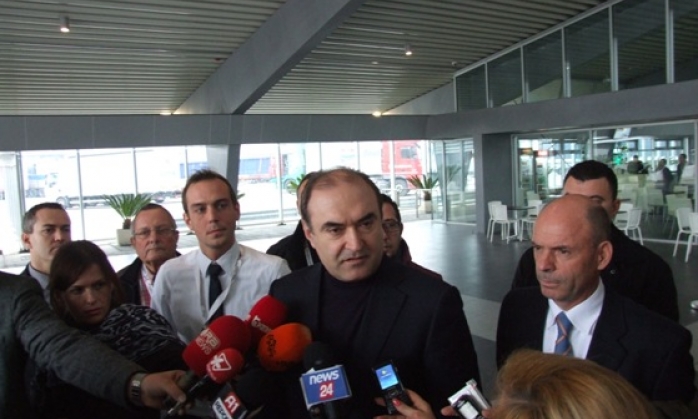 Tirana, February 1, 2014/Balkan Independent News Agency
The high prices that private companies offer for ferry lines linking Albania to Italy and vice-versa and the modest conditions of the service and transport, encourage the Albanian government to demand a drop in the ticket prices.
Minister of Transport and Infrastructure, Mr. Edmond Haxhinasto was in the Port of Durres (photo) on Saturday afternoon in order to closely inspect the quality of services offered to operators of the transport of goods and passengers.
Mr. Haxhinasto visited one of the ferries anchored on the quay. He said that he will obtain more information on the conditions of sailing and ferry standards, as there have been complaints over the high ticket prices, when they are compared to the conditions offered in the ferries.
Haxhinasto inspected Durres-Bari ferry and demanded a drop of ticket prices for passengers.
"This service offered to citizens must be of a high quality and must have a low cost", said the minister.
"The government's priority is for this to be one of the most competitive ports in the region and for this, we must have the understanding of all operators currently operating in the Port of Durres", added the minister.
"It's very important to make the port of Durres one of the most preferred ports of the region, to increase the quality of services that it offers in order to offer optimal service to passengers, to the Albanian economy, but also to private operators", said minister Haxhinasto.
On the other hand, Mr. Haxhinasto said that contracts for the services offered by private companies in the biggest port of the country will be reviewed.
"We will reassess the different service contracts that exist", said the minister.
The truth is that ferries that travel from Albania to Italy, from the ports of Durres and Vlora are in miserable conditions. Many passengers who have traveled on them say that such old ferries with such miserable conditions are only operated on lines traveled by Albanians. The traveling cost is very high, around 90 Euros one way and double if the passenger has a car.
Passengers travelling on this ferry also face long journeys and constant delays in departure and arrivals and very high prices of food and beverages inside the ferries. This situation continues for more than 20 years and very few things have changed so far.
Many ministers have previously admitted that the situation with ferries travelling to Italy is miserable and have promised changes, but they have been mere words, which have not been followed by actions. Even sea journeys to Greece leave much to desire. They are only offered 2-3 months during the summer, with mini-ships that do not meet European standards. Prices are high and chances to carry vehicles on board are slim, because these mini-ships can carry no more than two vehicles on board. /ibna/