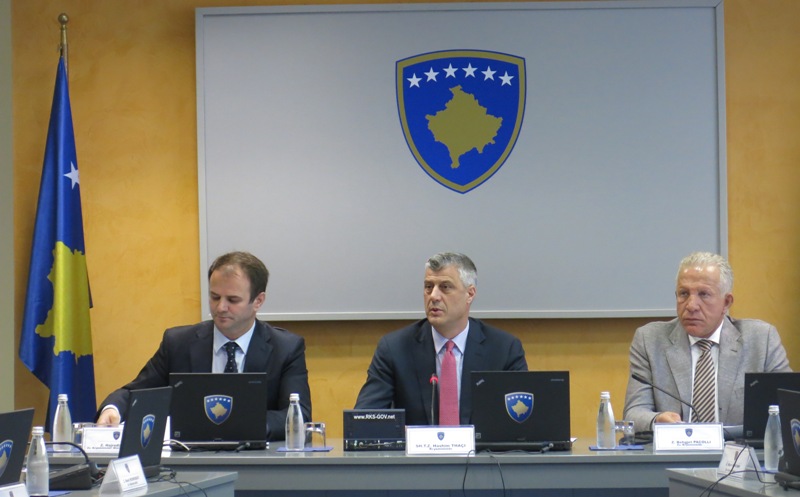 Pristina, April 25, 2014/Independent Balkan News Agency
By Elton Tota
Government of Kosovo has asked the parliament of Kosovo's steering committee to introduce the formation of the Armed Forces of Kosovo (AFK) in the order of the day. Prime minister of Kosovo, Hashim Thaci demanded today from MPs to  "put aside trivial political interests", after the government of Kosovo approved the formation of the Armed Forces of Kosovo.
"Every other postponement by parliament of Kosovo is unjustifiable", said Thaci in today's government meeting.
According to prime minister Thaci, if this is not voted in parliament in the coming days, the country will waste several years.
"This voting must take place in the coming days. If we waste this historical chance that Kosovo has for the formation of the Army of Kosovo-Armed Forces of Kosovo, I warn the citizens of Kosovo and the political spectrum that Kosovo will waste this chance for several years".
"Therefore, said Thaci, I invite the political spectrum, all MPs to vote the foundation of the Armed Forces of Kosovo. The army belongs to everyone, to all the citizens of Kosovo, regardless of the ethnicity. Therefore, parliament should introduce this in the order of the day  to vote in the best interest of our country, our institutions and our future".
Thaci says that this is a decision based on merit. He assures that the decision is welcome by Washington, Brussels and NATO. He also suggests that every delay is unjustifiable.
"We have the full support of USA, NATO and European Union and we also have the full understanding of the United Nations and Security Council to take this step".
Today's government meeting also passed the amendments of the bills needed for Kosovo Security Forces to turn into Armed Forces.
Armed Forces of Kosovo will have 8 thousand troops. The government says that this will be an army with NATO standards. "With the foundation of the army of Kosovo-Armed Forces of Kosovo, Kosovo, parliament of Kosovo give way to a clear perspective of the integrating processes of the Army of Kosovo first in the Peace Partnership and then in the NATO", declared the government of Kosovo. /ibna/