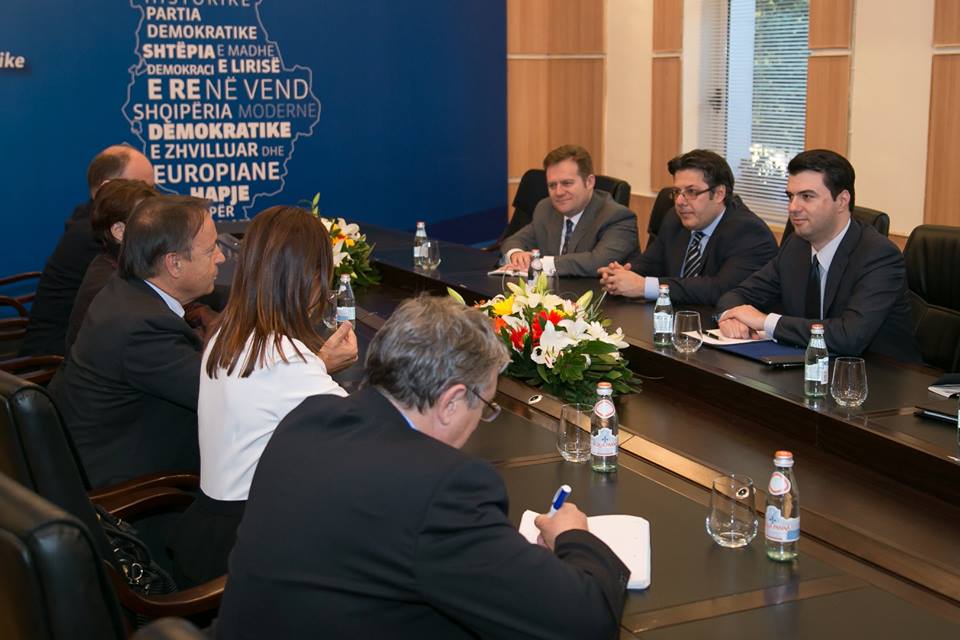 Tirana, March 13, 2014/Independent Balkan News Agency
Leader of opposition in Albania, Lulzim Basha says that the government didn't reflect on the refusal that the European Union made to the request of Albania to be granted the EU candidate status and that the current government has deepened its negative performance.
Mr. Basha issued these comments today (13.03) during a meeting in Tirana, with the president of the French Senate, Jean-Pierre Bel. This meeting (photo) mainly focused on the European integration of Albania and the issue of the candidate status.
Mr. Basha has expressed his concern to the president of the Senate for "the path followed by the new government at the detriment of democracy, in breach of the law and Constitution, against European standards which led to an increase of skepticism in many EU countries, something which in turn led to the Council of Ministers December decision to deny the status".
"The candidate status was ready for the government", said Basha, by informing Mr. Bel about the reforms undertaken and the criteria met by the previous government until last September.
Basha added that the status was easier to be granted to the new government, as the opposition entirely and unconditionally supported the process of integration and the status.
"But, the postponement of the Civil Servant Act by the government through a normative act, which was declared as anti-constitutional by the Court, massive layoffs in the administration, fight against independent institutions led to the status to be refused", said the leader of opposition.
According to him, what's more concerning is the fact that the government didn't read like it should have the December decision taken by the EU Council of Ministers.
"Instead of committing to the required reforms, the government committed to a process of blaming the so called European extremists and continued to deepen its negative performance by undoing the standards that were achieved and by undertaking consecutive attacks against constitutional institutions and Constitution itself", said Basha.
"The government didn't reflect following the December decision. On the contrary, it continued with the consecutive layoffs in the public administration. It didn't respect the decision of the Constitutional Court and continues to misuse parliament in order to approve its acts. The government reduced the space for debate in parliament and it usurped the powers of the President in the case of the discharge and nomination of the new head of the High Inspectorate of the Declaration and Audit of Assets", said Basha.
Meanwhile, the president of the French senate said that European integration is an issue of a national interest and demanded consensus between the parties.
He said that Council of Ministers December decision was a message to undertake the necessary reforms for the process of integration.
Stressing the full support of the opposition for the status, Mr. Basha told Mr. Bel that the opposition wants to debate with the government on program issues relating to the left and the right wing and not issues that relate to the main columns of the state and democracy which have been seriously put in danger by the current majority. /ibna/