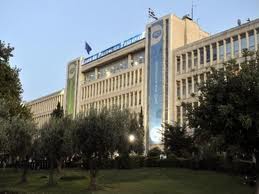 By Lefteris Yallouros – Athens
Greek national broadcaster ERT was shut down Tuesday. Government spokesman, Simos Kedikoglou, announced a shock decision pull the plug on ERT with immediate effect.
The government cut the signal of the Hellenic Broadcasting Corporation, known as ERT, just before 11 p.m., about an hour earlier than it had said it would.
Kedikoglou described ERT as a "haven of waste" and said the government is determined to put an end to wasteful state organizations such as the Hellenic Broadcasting Corporation (ERT). "ERT is a case of an exceptional lack of transparency and incredible extravagance. This ends now," he said.
Greece has an obligation to cut 15,000 state jobs by 2015 as part of its bailout commitments, 2000 of which must be gone by June.
Earlier on Tuesday, a legislative decree was published in the Government Gazette that allows for public enterprises to be shut down by a simple ministerial decision.
ERT currently employs 2,800 people and consists of three terrestrial TV stations, one satellite station and its national and regional radio network. Its employees will be suspended until the company reopens "as soon as possible." It was not immediately clear how long that would be. It is thought they will be able to apply to join the new restructured broadcaster, which will have fewer employees.
The decision was made personally by Prime Minister Antonis Samaras despite strong opposition from coalition partners, Socialist PASOK and left-wing Democratic Left Party (DIMAR) – who say they weren't consulted – and heavy criticism from opposition parties.
"The public broadcaster cannot close," PASOK said in a statement. "A three-party government cannot make decisions without the participation of all party leaders."
Samaras will put further cracks in his coalition government with this surprising decision and hope it is met with approval from Greeks who pay a contribution towards the running of ERT each month through electricity bills. However, sentiment in Greece is that the shock decision brings back memories of the 1967 military junta.
The government spokesman pointed out, however, that ERT "costs three to seven times as much as other TV stations and four to six times the personnel — for a very small viewership, about half that of an average private station." This is the sort of rationale the premier will hope goes down well with the public.
The decision will please the troika and the country's international creditors as it is the first time Greece goes ahead with mass public sector layoffs.
Main opposition SYRIZA (Coalition of the Radical Left Party) leader, Alexis Tsipras, visited ERT to show his support to employees. The party accused the government of "extreme despotism."
ERT midday news anchor, Antonis Alafogiorgos, spoke out against the government for accusing the state broadcaster of corruption. "This hypocrisy has to stop," he said before playing a video from last month showing Mr. Kedikoglou insisting that the state would protect ERT from cutbacks. "None of us want the government to fall," Mr. Alafogiorgos said, "but these methods are unacceptable."
Unions representing ERT workers at three terrestrial TV stations, one satellite state and its radio network said they would keep the stations on the air as people gathered outside the broadcaster's main building in protest until the early hours of Wednesday