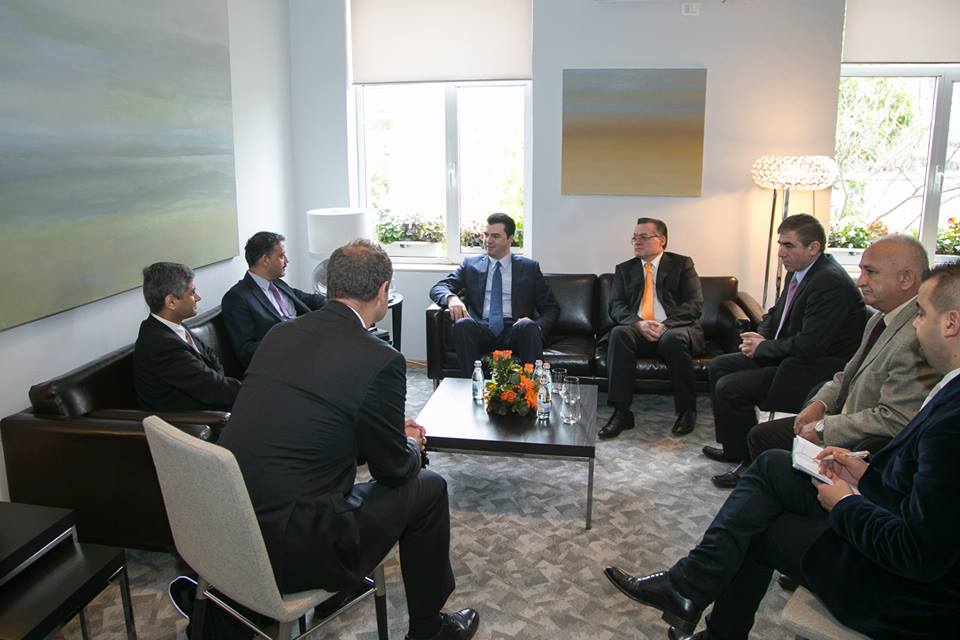 Leader of opposition receives the representatives of the World Bank and International Monetary Fund. Lulzim Basha: Albanian economy has deteriorated as a result of incompetence, arbitrariness, evasion and government corruption
Tirana, April 30, 2014/ Independent Balkan News Agency
Leader of the Albanian opposition, Lulzim Basha received in special meetings (photo) the representatives of the World Bank in Albania, Mrs. Tahseen Sayed and the representative of the International Monetary Fund, Mr. Nadeem Iilahi.
Basha expressed the concern of the opposition about what he considered to be the wrong path where the government has led the Albanian economy.
At the same time, the leader of the Democratic Party and mayor of Tirana, Mr. Basha said that there's a fall in the incomes being collected. He said that there's a fall not only compared to the previous period, but also based on the government predictions.
The leader of opposition said that the lack of transparency from the government in relation to the decisions that are taken and official data is worrying.
"The government has caused legal insecurities, something which has damaged business and prevented investors. Economy indicators are deteriorating, falling or weakening", said Basha.
The significant fall in the collection of taxes, said Basha, is an indicator of evasion, corruption and increase of formality in the economy.
On the other hand, said Mr. Basha, there's been an increase in direct procurements. According to him, the government is delaying information requested by the opposition in a parliamentary way.
Basha said that there's a general climate of insecurity which has seriously damaged economy and business and as a result, jobs have been closed and there are fewer opportunities for employment.
The leader of the Democratic Party briefed the representatives of the World Bank and International Monetary Fund on the fall of the payments that the government must make to companies involved in public investments compared to the previous government and the fall in the refund of VAT.
The opposition says that in this situation, the economy, financial market, consumers and investors have reacted or are reacting badly against an increasing deterioration. /ibna/