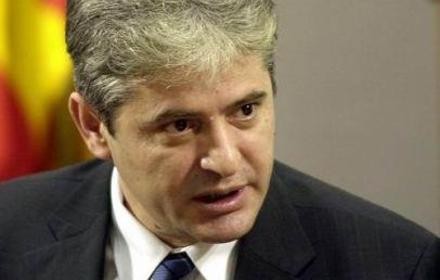 Leader of the Albanian governing party BDI, Ali Ahmeti: There's no agreement with VMRO-DPMNE for a consensual president, presidential elections may be boycotted
Skopje, February 7, 2014/ Balkan Independent News Agency
There's no agreement between VMRO-DPMNE and BDI on a consensual presidential nominee proposed by the Albanian party, BDI. This was confirmed today (07.02) by the leader of BDI, Ali Ahmeti, following the meeting with the head of Enlargement Department at the European Commission (EC), Christian Danielson.
"Up until now, there's no agreement with VMRO-DPMNE over a consensual presidential nominee which would be acceptable for all the citizens of the country. We do not withdraw from the idea of having a consensual candidate and we have informed the public opinion and our coalition partner on this", declared Mr. Ahmeti.
As far as the possibility of boycott in the presidential elections is concerned, Ahmeti noted that all options are on the table and they will be discussed by all party structures.
"We are going over the details of this situation and we're analyzing all the actions that we will take in the future. It doesn't matter if these will be political actions or not, what's important is to move forward with Euro Atalantic aspirations", said Ali Ahmeti.
Ahmeti considered the meeting with the EC senior official as very important, a meeting which discussed topics which relate to the path of FYR Macedonia toward EU integration.
"We concluded that there have been several positive steps such as the Electoral Law and Law on the Media. We also talked about the process of European integration of the country and the name dispute", said Ahmeti following the meeting with the senior European Commission official, Danielson. /ibna/