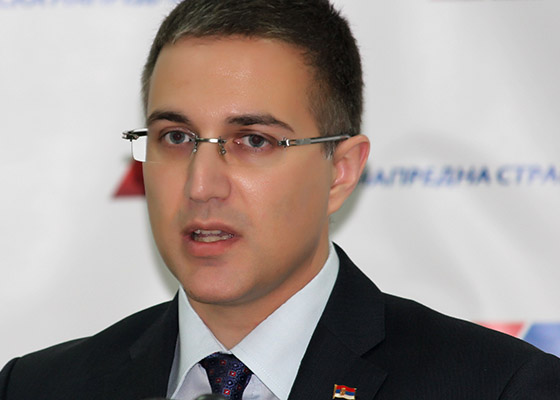 The statute on institution of the auxiliary police in Serbia has been canceled, a day after the original government's plan has been sharply criticized by the opposition parties. Interior Minister Nebojsa Stefanovic (photo) announced the cancellation.
Stefanovic said that the remarks were not "true". Namely, opposition groups claimed that the purpose of the auxiliary police was to employ party cadres – members of the ruling Serbian Progressive Party (SNS). But the minister said that only those with police education could became members of the auxiliary police.
"Unfortunately, now they will not get the jobs thanks to Sasa Radulovic (leader of the "It's enough" movement), "Dveri" (conservative opposition group) and Democratic Party, because of the chase against us which was, simply, too strong", Stefanovic said. He also said that the statute was adopted as early as in 2005.
On Sunday, the opposition condemned government's plans on auxiliary police. "The majority of honest and professional policemen does not support the regime of Aleksandar Vucic because of the political misuses they are permanently exposed to, as well as firings of those politically unfit, employing unprofessional party cadres and degrading the profession", Radulovic's movement stated.
"It became ever-harder to the prime minister and his police minister Dr Nebojsa Stefanovic to control the frustration in the police", they underlined.
Serbian movement "Dveri" stated that Vucic's intention with the now failed introducing of the auxiliary police was to "take advantage of (his) position, suspend the rule of law and create instead para-governmental, private and Progressives' police in order to make its logistics for the political terror against the opponents". "This Vucic's step shows that the foundation of his regime are undermined", "Dveri" claimed./IBNA