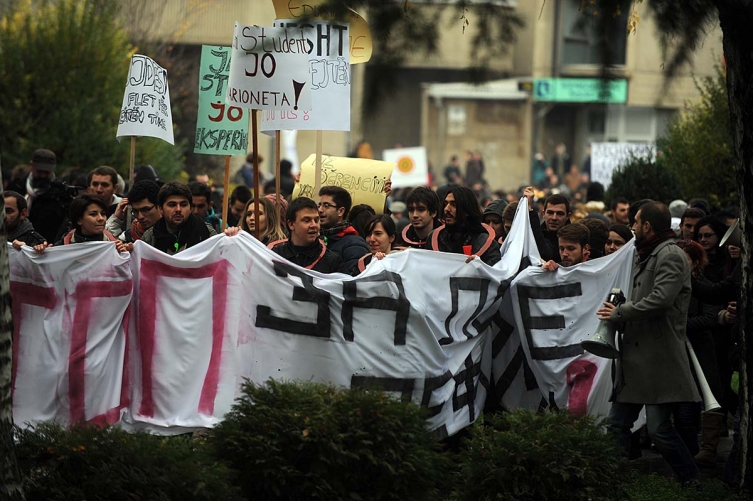 IBNA Special Report
Skopje, December 22, 2014/Independent Balkan News Agency
By Naser Pajaziti
Government of FYR Macedonia decided last night to introduce the state exam for students attending universities of the country.
Minister of Education and Science, Abdilaqim Ademi explains the conditions and deadlines for students that will sit the state exam. According to him, this exam will aim at increasing the quality of higher education and students will be obliged to sit this exam twice during their study period, at the end of second year and at the end of their studies.
"This project has been drafted in cooperation with faculty and university professors in the country and the only aim is to increase quality of higher education and the preparation of professionals who complete their university studies. The exam will be in an electronic form and will contain questions from lectures given by professors. We deny all accusations that we're intervening in the autonomy of universities through this", declared minister Ademi, who said that this exam will be held in the form of a pilot project, while it will enter in force in 2017.
Macedonian opposition through Macedonian Social Democratic Union (LSDM) said after the government decision that the approval of this decision for the state exam shows that this government ignores the voice of the students.
"With this decision, we see the double face of this government. It's not true that prior to the decision, there have been open debates in faculties and universities. Against this decision there have been strong reactions and student protests, but also protests from the citizens", says LSDM, warning that this party will lift this government decision, including state exams that are applied in the form of tests for high school and elementary school students.
This decision saw the reaction of the Student Plenum, the organization that held two massive protests in Skopje against the state exam.
"We insist on the abrogation of the state exam. This decision intervenes in the autonomy of universities. Their claims that there have been debates on this exam are mere lies, because no deans, professors and students were called in these meetings. Those who were invited were student associations who had an expired mandate", says Darko Malinovski from the Student Plenum.
This student organization in cooperation with other associations from all universities have warned other massive protests against the application of state exams. /ibna/