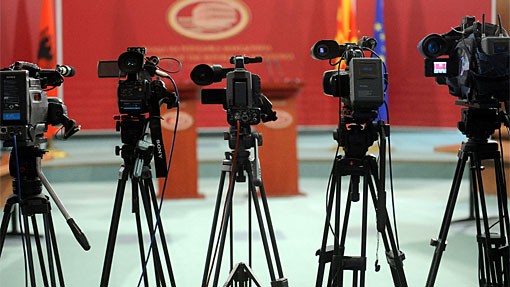 Skopje, February 18, 2014/Independent Balkan News Agency
By Naser Pajaziti
State ads, which are mainly broadcasted in pro government media and close to the party in power, VMRO-DPMNE, have become an object of debate between political parties, media circles, social organizations and citizens in FYR Macedonia.
Opposition says that every year, the government spends millions of Euros for government propaganda. According to the opposition, pro government media alone benefit from these funds. There are also concrete accusations for misuse of public funds and favoring of pro government media by the biggest opposition party, Socialist Democratic League (LSDM).
According to this party, before the local government elections, the government has allocated in two weeks 2 million Euros for government campaigns.
On the other hand, Albanian media benefit a very symbolical amount, thus raising concerns about the lack of a proportionate allocation of state funds.
This has also become an object of debate for the international factor. OSCE has expressed its concern about the lack of equal treatment of the media and the fact that pro government media are favored. Dunja Mijatovic, senior representative of OSCE for the freedom of media, demands transparency from the government in relation to the government ads, but also about the high fines issued to different media. She has also expressed her concern to prime minister Nikola Gruevski.
The millions that trigger strong political debates
Macedonian opposition says that the government and VMRO-DPMNE are not only favoring through campaign funds media which are under their umbrella, but these funds are also serving to deceive and manipulate public opinion.
According to a study published by the opposition party, LSDM, the government has spent up to 20 million Euros in the last 5 years.
These funds have been used for 40 awareness campaigns, topics that vary from promotion of ethnic tolerance, family values and patriotism and the "Skopje 2014" project.
Macedonian opposition says that this consists on a legal breach and favoring of pro government media.
Yesterday, (17.02), a new accusation has been launched against the government. The member of the Steering Committee of LSDM, Maksim Dimitnevski said that the for the domain of health, the government has signed a contract amounting to 740 thousand Euros for two ads.
Gruevski reacts
Prime minister Nikola Gruevski has reacted on the government ads, following the questions addressed by opposition MPs. Gruevski says that the ads are paid for media that have a high audience and no selections are made. He says that these ads are efficient, because they inform the citizens, companies and other subjects.
"The government launches such policies of publication of informative campaigns in different periods for different projects, for laws or by laws, in order for citizens and companies to be informed on the new opportunities and the works done in their interest", says Gruevski, adding that he's ready to make public all the contracts that relate to the government media campaigns.
Associations and analysts demand transparency
Analysts and experts of media in FYR Macedonia say that through its campaign, the government is buying the media and putting it under control, thus threatening its independence.
Association of Journalists of Macedonia has also demanded transparency and equal allocation of media funds. This association says that one of the points of the agreement with the government in drafting laws on media, is the issue of ads. Transparency is required here and an equal treatment of all mediums, in order for independent information not to be threatened.
Mirce Adamcevski, former head of the Council for Radio Broadcast (Commission for the Regulation of Media) says that the government will never be transparent as far as the spending of funds for ads and purchase of media is concerned.
"I don't expect the government to be transparent and for things to change. Thus, it will continue with the practice of ads and purchase of media, which are forced to work for it. This way, by making selections or by buying the media one after the other, this government may remain in power for another 100 years", says Mr. Adamcevski.
Expert of communication, Klime Babunski says that government ads have become the main channel of communication between the government and the public. He's concerned over the fact that no assessment has been made about their practical effect.
"Here we have to do with an unprecedented thing, because those media that secure more ads, secure more incomes from the government funds. This is absurd, because if someone has managed to secure more money from the market, in order to secure more media pluralism, government ads must go to media which have not managed to secure ads from the market", told IBNA the expert of communication, Klime Babunski.
Citizens say that ads are far from reality
Besides analysts, citizens have negative opinions and launch extreme accusations against the government for its multi-million ads campaigns. They say that the image reflected through ads has no connection whatsoever with reality.
Hasan Kurti, a citizen from Skopje believes that the reality given in government campaigns is totally different to the one that face citizens every day.
"These ads are lies. The youth is unemployed. What has the government done about this? Nothing. Everything are lies! We must work more than publish ads", says Kurti.
Albanian media complain about discrimination
Albanian media express their concern about the discrimination that they suffer, being offered only a small amount of state budget for ads.
"Printed or electronic Macedonian media receive millions of Euros from the government, while Albanian media are extremely discriminated by not giving them what they deserve based on the law.
Albanian media are in miserable conditions and Albanian structures in state institutions have not raised their voice on this. This situation has put a big question mark over the functioning of Albanian media", told IBNA, Munir Mehdiu, owner of regional TV network, TV Uskana in Western Macedonia.
According to him, those little funds which are allocated to regional and local media, are not allocated in a fair way, because Macedonian media receive three times more than Albanian media.
"This is open discrimination. A question naturally arises: What is the mechanism that the current government uses to openly discriminate Albanian media and how does it justify itself in front of Albanian officials in institutions that have respective powers", says Mehdiu. /ibna/