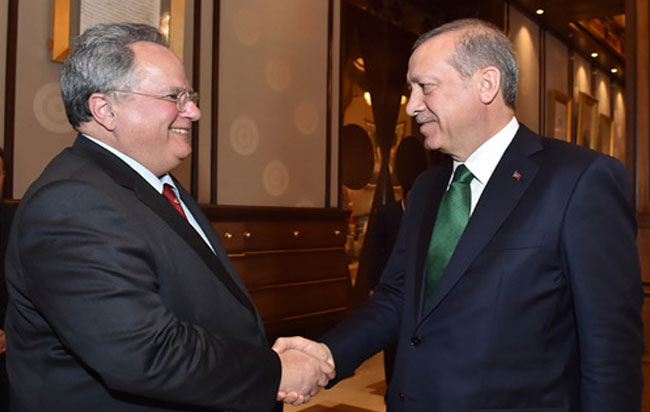 Athens, May 13, 2015/ Independent Balkan News Agency
By Spiros Sideris
With great satisfaction completed on Tuesday evening, Foreign Minister Nikos Kotzias, his two-day contacts with the Turkish leadership on a high-level wide range of issues, and what's more in the midst of the election campaign. The highlight was the meeting with Turkish President Tayyip Erdogan at the presidential palace in Ankara, after the two-hour meeting he had Tuesday, on a wide range of issues, with Turkish Foreign Minister Mevlut Cavusoglu and the communication of the common will of the two countries for a peaceful Aegean and a solution in the Cyprus problem.
In the same warm climate took place the third meeting with Turkish President Erdogan, the last before his departure, Tuesday for Antalya and the NATO summit that will take place there on a weekend. This meeting, was not in the original program of the Greek Foreign Minister, but was arranged Monday during his meeting with Prime Minister of Turkey Ahmet Davutoglu in Istanbul.
Greece and the present government has made it clear, as Kotzias informed the Greek journalists, before departing from Ankara, that it wants to build bridges of trust with Turkey, both in terms of solving the problems that exist in Greek-Turkish relations, and in terms of prosperity and development of the two peoples. In this regard, the Greek Foreign Minister said to Erdogan an Indian proverb, with which the Turkish President agreed, that when a man is faced with many stones he has three things to do, throw stones, or to raise walls or build bridges, noting that Greece country chooses the latter option.
In the discussion, Kotzias explained that what was made clear by both sides is the common will for consultation in resolving problems. Reference was made on the Cyprus problem, where Greek Foreign Minister explained his position on a solution which will safeguard the interests of all communities on the island and therefore is a genuine solution. "The Turks told us that it's a great opportunity to solve the Cyprus problem, which will have positive effects in general", Kotzias said.
Particular reference was made on the cooperation in the tourism sector, for which the Turks want a significant increase in exchanges and from quadrupling in recent years to reach tenfold. In this context will be review all the agreements that have been made by a special committee. At the same time, Kotzias proposed setting up a technical committee, which will examine the development opportunities of investments and the economy.